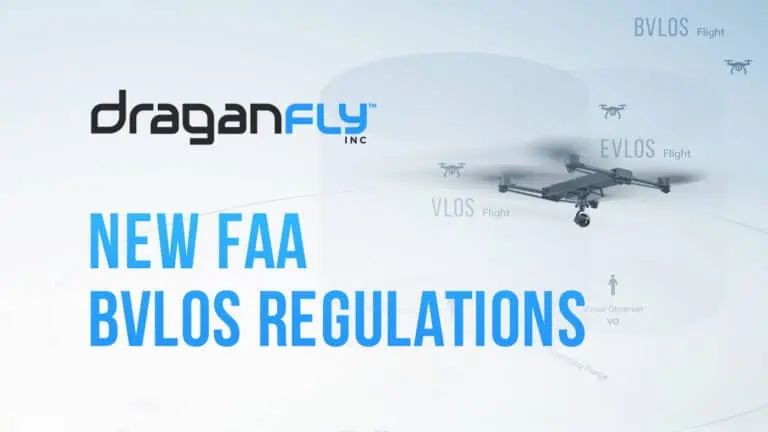 Draganfly Inc. believes it is well poised to meet the market acceleration of the evolved and newly announced regulations governing Beyond Visual Line of Sight (BVLOS) drone operations by the Federal Aviation Administration (FAA).
The company has been actively preparing for this evolution, ensuring it is well-positioned to be of service to its existing and future public safety, first responder, search and rescue, wildfire, medical and defense customers.
As part of this development, the FAA has announced important updates to drone waivers to enhance safety and expand operations. These updates were created through collaborative efforts between public safety stakeholders, companies, and the FAA.
The FAA has introduced new waivers and templates that streamline the approval process for drone operations, particularly in the public safety sector. The Drone as a First Responder (DFR) BVLOS/FR-BVLOS significantly reduces the approval timeframe from over six months to just a few days. This improvement will benefit Draganfly, enabling the company to expand its presence in multiple industries and capitalize on more opportunities in the public safety sector.

Draganfly has over 24 years of experience manufacturing drones particularly for public safety in North America, providing crucial drone technology for BVLOS operations. Draganfly is a technology, manufacturing, and services partner with leading public safety organizations, such as ColdChain Delivery Services, DroneSense, SkyeBrowse, Vermeer and PromoDrone.
In support of these streamlined regulations, Draganfly opened Draganfly UAS A.I.R. Space, a 150 acre flight facility dedicated to the advancement of UAS program Adoption, Innovation & Research which is designed to be the proving ground for its partners and customers testing requirements to attain applicable flight waivers.
Draganfly drones have a storied track record performance from being the first drone credited to have saved a human life to the recent humanitarian and demining missions in Ukraine which has helped build a reputation as a reliable and efficient provider poised to be a leader with its stakeholders dedicated to saving time, money, and lives.
"Commercial, Government, Military & Industrial drone adoption, expansion and sustainability can only be attained with a clear and efficient regulatory framework which after decades of development has now taken shape and will accelerate the drone industry to its multi, multi-billion-dollar potential," said Cameron Chell, President, and CEO of Draganfly. "These regulations will enable broad adoption in addition to opening a whole new range of use cases and potential."