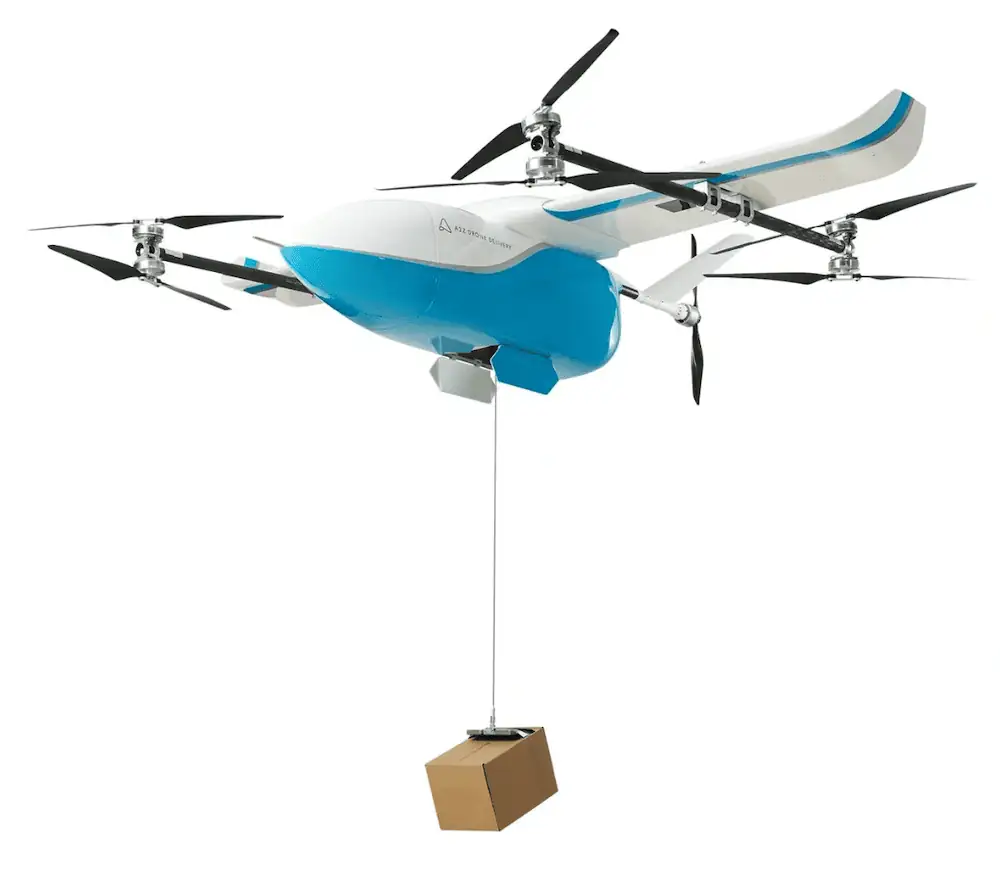 A2Z Drone Delivery, Inc. has released the RDSX Pelican, its new flagship delivery drone, which leverages a hybrid VTOL airframe with no control surfaces to combine the reliability and flight stability of a multirotor platform, with the extended range of a fixed wing craft.
With no ailerons, elevator or rudder, the Pelican's design eliminates common points of failure and exponentially extends operational time between maintenance overhauls.
Designed to meet the 55-pound takeoff weight limitation for FAA Part 107 compliance, the Pelican can carry payloads of 5 kilos on missions up to 40 kilometers roundtrip. Available in multiple model variations, the Pelican can be optimized for extended range operations or to deliver payloads from altitude with the company's RDS2 drone delivery winch.
The RDSX Pelican is offered as:
RDSX Pelican with Winch – Optimized with the A2Z Drone Delivery RDS2 drone delivery winch system, this Pelican model accurately deposits payloads from altitude via tethered release. Keeping propellers far from ground obstructions such as trees, buildings or powerlines, this is the best option for delivery missions into unknown topography.
RDSX Pelican Payloads – For delivery missions in which the Pelican is able to safely land to deposit its payload, this model swaps the RDS2 drone winch for a simplified servo-release allowing the Pelican to carry even heavier payloads.
Custom RDSX Pelican – Leverage the extended range and payload lift capabilities of the Pelican's hybrid VTOL airframe to meet any unique mission criteria. Customers can work directly with A2Z Drone Delivery's engineering team to create a one-of-a-kind, mission-specific UAV platform for drone inspection deployments, search and rescue missions, or any other unique demands.
The Pelican's hybrid fixed-wing/multirotor airframe eliminates the traditional control surfaces seen on most winged aircraft. With no servos to replace and minimal moving parts, the Pelican's simple-yet-robust design extends the time between recommended maintenance overhauls to reduce downtime and cost. To maximize scalability of those drone delivery ecosystems, the RDSX Pelican was also designed to minimize operational costs for commercial drone delivery fleets.
"Here at A2Z Drone Delivery, our development is not just about maximizing performance, it's about creating usable tools designed to get work done," said Aaron Zhang, Founder and CEO of A2Z Drone Delivery, Inc. "A full-service drone delivery ecosystem will need a fleet of short, medium and long-range UAV platforms capable of depositing payloads in an array of settings. The new RDSX Pelican is the highly efficient, long range delivery platform in that last-mile fleet. It is thoughtfully designed to minimize potential points of failure, reducing the overall cost-per-kilometer of logistics operations, all while providing maximum payload flexibility."
Optimized with the A2Z Drone Delivery RDS2 drone winch, the Pelican features:
45 knot cruising speed to traverse routes quickly
Configurable up to 7-8 kg payload capacity
50 km max range with no payload/40 km max range with 5 kg payload
55lb. max takeoff weight
13 cents per kilogram per kilometer operational costs
Requiring no specialty delivery boxes, the Pelican can accept any shape payload with dimensions up to 400 x 300 x 300mm
The automatic network selector seamlessly transitions between multiple 4G networks and a mesh radio link to optimize connectivity
Patent-pending auto-release mechanism can deposit any box without the need for a human receiver
Retrieve payloads up to 5 kg while maintaining hover at a safe altitude
Optional manual-release hook capable of delivering or picking up just about any payload with a handlebar
Passive payload lock secures cargo during flight
Tether abandonment capability enables the release of the winch tether and payload should they become entangled
Portable ground control station enabled with A2Z QGroundControl
Intuitive flight controller enables connection with any MAVLink-enabled device
A2Z Drone Delivery will first display the new RDSX Pelican at the AUVSI XPONENTIAL event, May 9-11 in Denver, CO.
Find cargo drone manufacturers and suppliers of delivery UAVs for logistics and long distance transportation>>