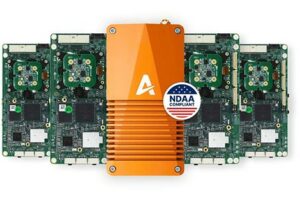 Auterion is partnering with Doodle Labs to integrate Doodle Labs' industrial-grade wireless networking solutions within the Auterion platform to provide customers with a greater choice of communication and radio solutions. 
The integration with Doodle Labs will allow both companies to work together towards a common goal – ensuring drone and robotics manufacturers are successful in building their platforms.
With Auterion, OEMs can easily integrate leading components, like those from Doodle Labs, and be confident that they work seamlessly without the need for custom development, elevating the capabilities of manufacturers to enable their tech to be more compelling to end users.
With Doodle Labs' radio systems now available within Auterion's open-source software platform, drone manufacturers now have access to an even wider choice of mesh networking and radio solutions to be able to offer BVLOS flight, and communicate over long distances, enabling a wide range of industrial and government applications.
"We are thrilled to integrate Doodle Labs' advanced radio communication technology into our ecosystem," said Nate Puskaric, SVP, Sales & Marketing for Auterion. "Our market position is to compound value for the entire ecosystem, and this integration is another step in expanding our capabilities to deliver that. By working together with Doodle Labs, we increase the choice of solutions for our customers, and enable drone OEMs to build advanced platforms, faster."
"We are excited to partner with Auterion to create innovative drone solutions that will enable new use cases and unlock the full potential of drone technology," said Amol S. Parikh, VP Marketing for Doodle Labs. "Both companies share a commitment to ensuring that drone OEMs are successful, and we are confident that our collaboration will be in service of that. By working together, we can provide leading components that work seamlessly with Auterion and deliver the best solutions for our customers."
The arrival of Doodle Labs to Auterion's ecosystem is the newest addition in a growing number of companies choosing to accelerate the adoption of autonomous systems by converging on Auterion's common operating system, Auterion OS, based on open source software and open standards.