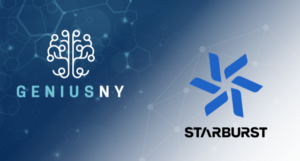 Starburst, a leading global Aerospace and Defense (A&D) startup accelerator and strategic advisory practice, and GENIUS NY, the Syracuse, NY-based startup accelerator focused on incubating early-stage companies in the uncrewed systems and robotics industries, have announced their second year of collaboration.
The Starburst team will continue to support GENIUS NY's 12-month accelerator program, designed to help startups develop their products, refine their business models, and prepare for commercialization. Starburst will provide its Accelerator-as-a-Service, serving as a nexus between global stakeholders in the A&D ecosystem.
Applications for cohort 7 are open through May 17, 2023 – apply here.
The GENIUS NY accelerator supplies unparalleled access and expertise to young companies in the uncrewed aerial systems, robotics, and big data sectors. Each year, the program invests $3 million into five selected startups. GENIUS NY works closely with its partners at NUAIR, who manages operations of the FAA-designated New York UAS Test Site at Griffiss International Airport and is responsible for the advancement of New York's 50-mile UAS Corridor between Rome and Syracuse, NY. To date, GENIUS NY has awarded more than $18 million in 32 startups from around the world.
Starburst leverages its deep industry expertise to offer GENIUS NY startups strategic advice about product-market-fit and growth, access to a deep industry expert mentor network, dedicated fundraising support, and introductions to investors, commercial customers, legacy corporates, and government innovation leaders. Starburst has been an innovation catalyst in the aerospace industry since 2012, with four active venture funds internationally and equity in over 140 aerospace startups, the top 10 of which have raised more than $1 billion.
"This collaboration is true to our open innovation ethos. It allows companies to access world-renowned expertise, tap into a more comprehensive network, and have an increased competitiveness and agility in the market," said Starburst Accelerator Principal Nate Mason. "We are thrilled to continue working with GENIUS NY and the cutting-edge disruptors they accelerate."
The GENIUS NY accelerator offers a year-long two-phase program: The first phase is a three-month boot camp, during which selected startups receive a $30,000 stipend and work on developing their products and business plans. Phase I ends with Pitch Finals, an event where all five companies are awarded a total of $3 million: $1 million grand prize and four $500,000 awards. The second phase is a nine-month accelerator, during which the startups receive additional mentoring, networking opportunities, and access to resources to help them grow and scale their businesses.
Companies from previous cohorts have gone on to raise significant rounds of venture capital, including Drone Seed ($36M Series A), Thread ($15M Series A), Fotokite ($13.7M Series B), and Wonder Robotics ($4 Million Seed Round).
According to Kara Jones, Director of GENIUS NY, "Partnering with Starburst adds incredible value to GENIUS NY. This will enable us to further expand our network in the aerospace and defense sectors and allow companies in our program to scale faster and generate revenue sooner. The unique qualities of GENIUS NY that provide targeted resources to companies, combined with the extensive reach of Starburst, will enhance the impact and advancement of this sector within our economy as we move into our seventh round."
Current teams working with Starburst from cohort 6 include Fusion Engineering of the Netherlands, who is working to create the most reliable, flexible, and easy-to-use flight controller for multirotor drones; Dronehub of Poland, who builds autonomous 'gas stations' for drones and intelligent cloud software for human-less monitoring and inspections; and Archangel Imaging from the United Kingdom, who develops commercial smart security systems.
Applications for cohort 7 are open through May 17, 2023 – apply here.
Winners are announced in early July, and phase one of the accelerator program begins on July 10, 2023.