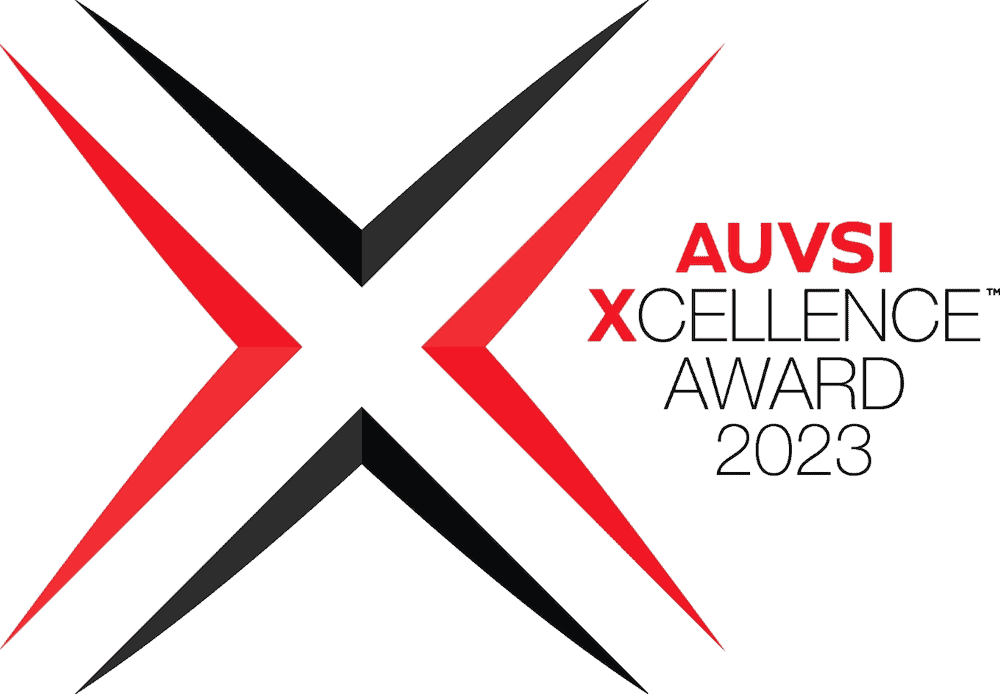 The Association for Uncrewed Vehicles Systems International (AUVSI) has named the finalists for the sixth annual AUVSI XCELLENCE Awards, which recognize the accomplishments of companies, organizations and individuals across the uncrewed systems community.
AUVSI's XCELLENCE Awards honor innovators with a demonstrated commitment to advancing autonomy, leading and promoting safe adoption of uncrewed systems and developing programs that use these technologies to save lives and improve the human condition.
The winners will be announced during XPONENTIAL 2023, taking place May 8-11 at the Colorado Convention Center in Denver, Colorado.
As the uncrewed systems industry's largest trade show and conference, XPONENTIAL offers a broad-based and balanced educational program brimming with cutting-edge content and inspirational insights, ranging from policy implications and technical challenges to use cases and best practices across vertical markets and everything in between.
"This year, XPONENTIAL is all about designing a shared plan for the future of autonomy," said Brian Wynne, President and CEO of AUVSI. "There's no better place to announce the 2023 XCELLENCE award finalists. Together, they are redefining what's possible with uncrewed and robotic technology."
These are the finalists in their categories:
XCELLENCE in Academic Research
Neural10, Autonomous Navigation in GPS-Denied Zones 
Ocean Alliance, Tagging Whales with Drones 
University of Colorado Boulder, 20 Years of UAS Research XCELLENCE 
University of Michigan, Alireza Mohammadi 
Virginia Tech's Mid-Atlantic Aviation Partnership, Robert Briggs 
XCELLENCE in Innovation
Austal USA, Austal MCS 
Plus, PlusDrive, An Industry-defining Driver-in, Highly Automated Driving (HAD) Solution 
Sentera, Eliminating Stitching with the Sentera DGR System 
Skydio, Skydio Dock, Automated Inspections of Sites with Autonomous, Remote Drone Operations 
UPS Flight Forward, Inc., Safety Management System First in the Industry Accepted by the FAA 
XCELLENCE in Operations
Enterprise Application
City of Pendleton, Pendleton UAS Range 
JobsOhio and the Ohio Department of Transportation, Propelling AAM in Ohio 
XCELLENCE in Technology
Enabling Components & Peripherals
infiniDome, infiniDome's GPSdome2 
LEMO Corporation, LEMO M Series High Power 
MatrixSpace, MatrixSpace Networked Radar 
Hardware & Systems Design
Connect Tech, Anvil Embedded System with NVIDIA® Jetson AGX Orin™ 
D-Fend Solutions, EnforceAir 
ModalAI, Inc., VOXL® 2: 16g Blue UAS Framework 2.0 Autopilot 
TOPODRONE, TOPODRONE AQUAMAPPER 
Software Design and Coding
AlarisPro, Inc., AlarisPro Safety Ecosystem (ASE) – Advancing UAS Reliability Through Shared Data Across UAS Operators and Manufacturers 
BlueSpace.ai, 4D Predictive Perception enabled Scalable and Explainable AI for Autonomy 
Skydio, Skydio Scout, Situational Awareness for Moving Convoys 
VOTIX, VOTIX 
XCELLENCE in Workforce Development
DroneUp, with partner, Richard Bland College, Established the First Commercial Drone Workforce Training Program for College Credit  
Embry-Riddle Aeronautical University Worldwide and Warren College, Better Together: Producing Effective Educational Opportunities for the UAS Workforce 
Fullerton College, Fullerton Drone Lab, Drone Piloting Registered Apprenticeship 
Laurel Ridge Community College, Laurels Take Flight 
National Robotics Education Foundation NREF, National Robotics Education Foundation (NREF) 
Finalists were also named in the Humanitarian and Public Safety categories. These awards will recognize three organizations or individuals in each category that have made a significant impact using uncrewed systems to serve in humanitarian or public safety efforts. The winners will each receive a physical and monetary award. The finalists for those categories are:
XCELLENCE in Mission
Humanitarian Project/Program
ArroTech, Dr. Stephen Dunnivant  
MissionGO, Inc., Operation Healing Eagle Feather 
Near Earth Autonomy, Autonomous Aerial Blood & Medical Supply Delivery to the Wounded 
The David McAntony Gibson Foundation (GlobalMedic), GlobalMedic RescUAV Response to La Soufrière Volcano in Saint Vincent and the Grenadines 
UCAL Fuel Systems Limited, Drone Based Disaster Relief  
Public Safety
Brookhaven GA Police Department, Brookhaven Police sUAS Team 
DRONERESPONDERS, DRONERESPONDERS Public Safety Alliance 
Hidden Level, Inc., Airspace Monitoring Service (AMS) 
Texas Department of Public Safety, Texas Department of Public Safety 
United States Forest Service, Testing and Scaling New Technologies for Operations and Safer Mixed Airspace Ops