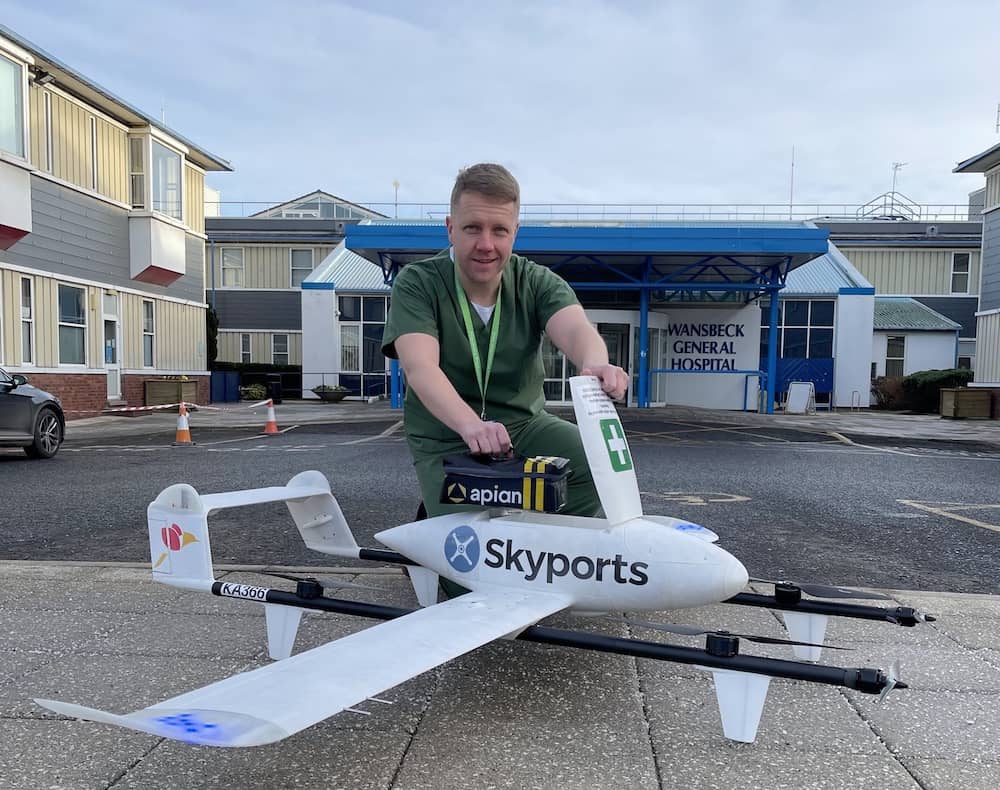 Drones carrying key medical supplies are taking to the skies of Northumberland, UK from the middle of February 2023 as the trial phase of an innovative NHS project gets underway. 
Northumbria Healthcare NHS Foundation Trust is partnering with Apian, a company which has come through the NHS Clinical Entrepreneurs Program, to explore the use of Unmanned Aerial Vehicles (UAVs) for carrying chemotherapy drugs, blood samples and other items between sites.
Following a UK Civil Aviation Authority (CAA) approval process, test flights are taking place from Monday, February 13, to Friday, May 12, along a route from Wansbeck General Hospital at Ashington up to Alnwick Infirmary and onto Berwick Infirmary. 
Given Northumbria Healthcare's large, predominantly rural patch across Northumberland and North Tyneside, using drones could reduce delivery times, make efficiencies and cut carbon emissions. The trial will collect logistical data and assess the impact on patient experience, staff resources and the environmental benefits.
"As an innovative and forward-looking organization, we are always interested to explore initiatives which may be able to improve how we deliver care to our communities," said Sir James Mackey, chief executive of Northumbria Healthcare NHS Foundation Trust. "With the area we cover and the number of hospitals and other sites we manage, having effective logistics to get supplies where they need to be is vital, while we are always mindful of our need to drive efficiencies and reduce our impact on the environment.
"Using drones has the potential to help us deliver important drugs and supplies in a better, smarter way, so we are looking forward to seeing how the test flights go. We are committed to providing as much care as we can in our outlying communities, so logistical routes to Alnwick and Berwick are a key focus."
The project will use fully electric VTOL aircraft which can fly horizontally. The UAVs, which are managed by Skyports Drone Services, can carry up to 3kg of payload and have a maximum speed of 110km/h (almost 70mph).
There will be six flights per day at the beginning of the trial, increasing to up to 15 flights per day at the end of the trial, delivering chemotherapy medication to Alnwick and onto Berwick Infirmary. Return flights from Alnwick and Berwick will deliver pathology samples to Wansbeck. Other items that may be delivered include blood packs, prescriptions, medical equipment and mail.
"This trial builds on Apian's work in the Solent where we flew the world's first chemotherapy and delivered the UK's first prescription medicine by drone," said Apian co-founder and medical director, Dr Christopher Law. "While there's still much work to be done before UAVs can operate autonomously in non-segregated airspace, there's an equal and opposite amount of evidence for Apian to collect for how on-demand delivery can impact healthcare just as it has our personal lives."
This trial is a critical step towards the greater uptake and use of UAVs to support the NHS to build capability into existing, pressured supply chains. Apian and not the NHS is funding the trial.
In doing so, there is the opportunity to assess and test the hypothesis that UAVs can deliver critical medical items as efficiently as the internet moves information. This will help reduce costs to the NHS and taxpayer through automation, respond to the climate emergency (a critical undertaking for the world's fifth largest employer and UK's biggest single supply chain), create new local employment opportunities, and, crucially, allow for better patient care.
Find Medical Drone manufacturers and suppliers of delivery drones in healthcare logistics, transporting blood, medicine and medical supplies to hospitals, clinics and laboratories>>