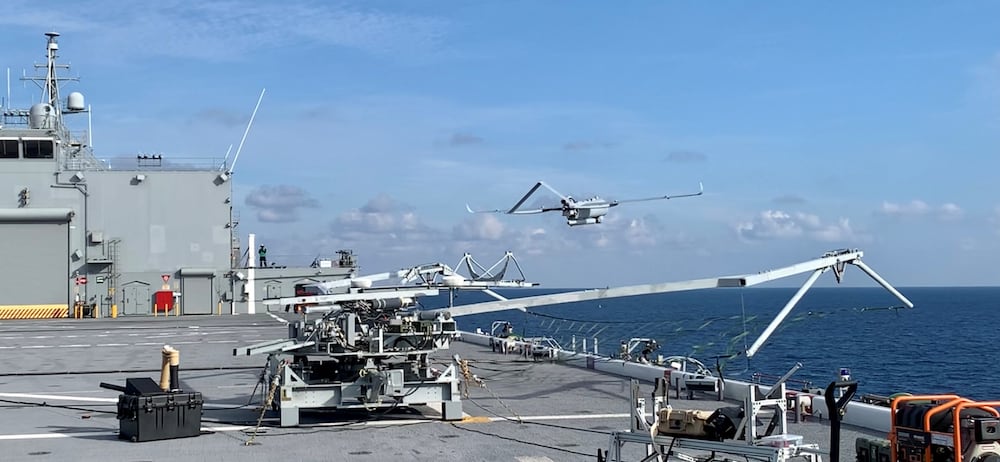 Textron Systems has confirmed that its Aerosonde UAS aboard the USS Miguel Keith, designated ESB 5, has taken its first operational flight following an October 2022 contract award by the US Navy's Naval Air Systems Command (NAVAIR) to provide unmanned aviation support aboard the ship for up to five years.
Textron Systems will deploy its Aerosonde UAS to provide extended range Intelligence, Surveillance and Reconnaissance (ISR) services with enhanced mission payloads aboard the ESB 5, which supports a broad range of military and aviation operations as part of the Forward Deployed Naval Force.
The company's Field Service Representatives (FSR) will work alongside the sailors onboard ESB 5 to provide support for a variety of maritime missions.
"Having an unmanned aircraft system operational aboard the ship acting as a remote sensor contributes to overall maritime domain awareness and mission success," said Wayne Prender, Senior Vice President, Air Systems. "The Aerosonde system is providing added reach beyond the horizon and an ability to operate multi-INT ISR consistently, both great examples of the benefits of teaming unmanned aircraft with manned ships."
Designed for expeditionary land- and sea-based operations in austere environments and equipped for multiple payload configurations, the Aerosonde UAS supports a total of four US Navy ships, including the USS Hershel 'Woody' Williams (ESB 4) and two DDG-class ships in addition to the USS Miguel Keith.
Aerosonde has amassed more than 600,000 flight hours while serving multiple US customers and international allies.