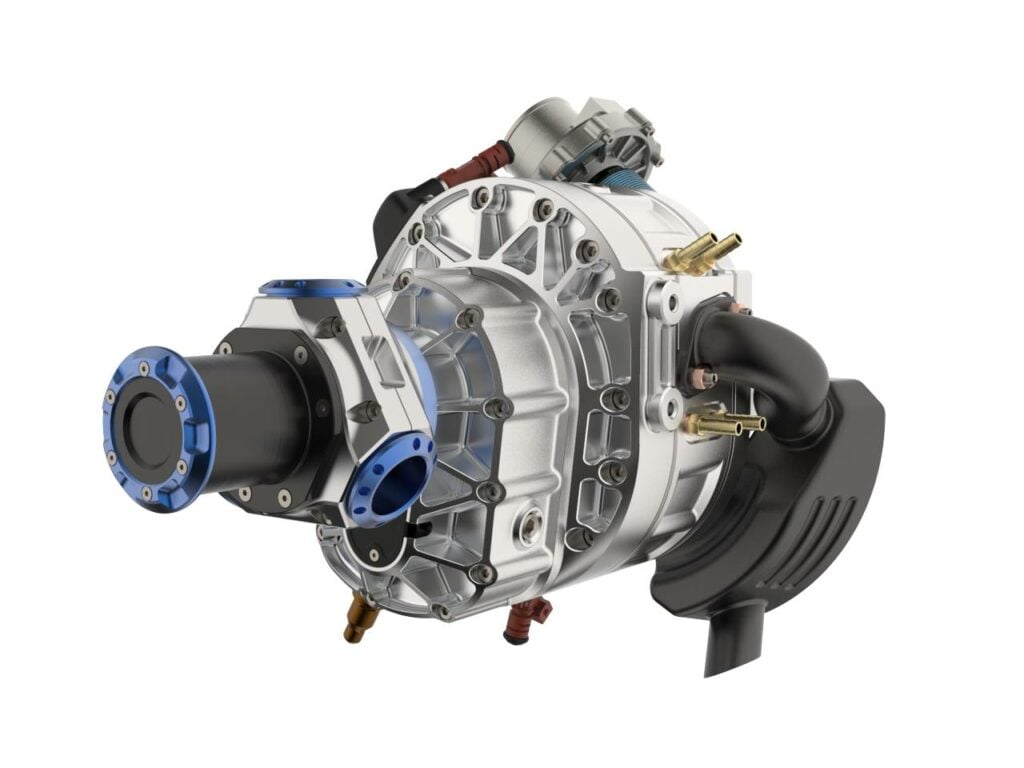 Barcelona-based internal combustion and hybrid engine manufacturer UAVHE has released the RW1-300C, a unique wankel hybrid model for UAVs (unmanned aerial vehicles). Designed from the ground up using aeronautical technologies and approaches, the RW1-300C hybrid engine is a wankel rotary engine with integrated transmission and variable pitch propeller hub. Manufacturer's suggested retail price starts at €11,900.
Highly effective for sustained operation at constant speeds the RW1-300C has been built for fixed-wing UAVs with high electrical loads, and VTOLs. Equipped with a two-stage electronic fuel injection system, part of the mixture is formed by injection into the intake manifold directly into the combustion chamber. To compensate for altitude, the engine is equipped with an electric supercharger whose performance can be smoothly and arbitrarily changed depending on the operating conditions. The fuel pump and pressure regulators are duplicated for reliability. Reliable starting and operation of the engine are guaranteed on a wide range of fuel grades including aviation and automotive gasoline, and heavy fuels (aviation kerosene and jet fuel).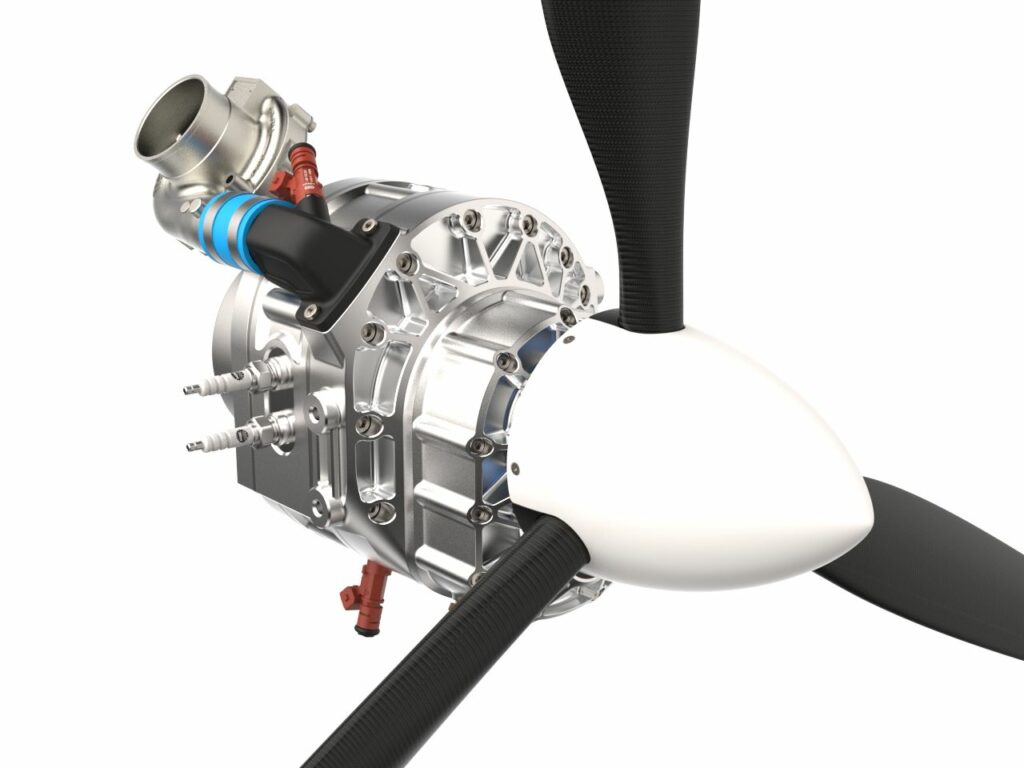 The hybrid power plant is integrated with an 11kW generator and a reversible electric booster/starter which enables a brief increase in power for example, on takeoff or when performing active maneuvering. Using a powerful integrated starter ensures the reliable starting of heavy fuel at significant negative temperatures and low atmospheric pressure. Up to 10 kW of electric power is available at cruising speed or up to 2kW at idle speed when the propeller is not rotating.
The liquid, double-circuit cooling system has two independent cooling loops, two radiators, and two pumps. The failure of one of the circuits delays the loss of the engine or enables continued flight with decreased power. Variable capacity cooling pumps enable optimum temperature during operation and smooth cooling after missions.
The transmission is equipped with a centrifugal idle clutch (the propeller does not rotate until the engine reaches 3000 rpm) and an integrated gearbox with ratio 1:3.2. The gearbox housing is an oil cooler. A brush block is built into the body to control the variable pitch propeller. The gearbox is equipped with oil temperature sensors and sensors for the presence of metal chips in the oil. The data from the sensors is transmitted to the control unit via the CAN bus.
Materials & Design: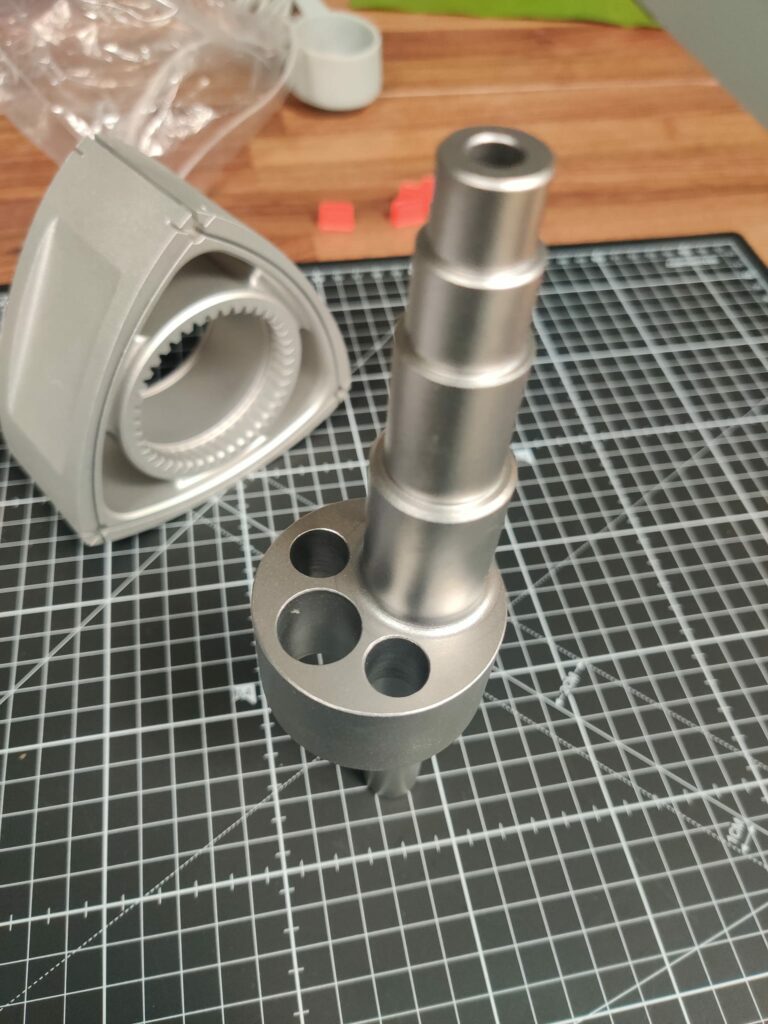 The engine casing is milled from dural alloy forging.
The rotor is hollow, cooled by the fuel mixture, and made from an aluminum forging.
Apex channels are electroplated.
Seal apexes are tungsten carbide, and sidewalls slots are polished and anti-seize coated.
The crankshaft and internal gears are made of forged steel.
Bearings operate on polished and hardened surfaces.
The outer surfaces of the engine are hard anodized.
All fasteners are stainless steel or titanium.
All connectors are sealed, mil-spec.
The combustion chamber (stator) is formed from a thin cast-iron sleeve and cast-iron side walls to the reverse side of which labyrinth cooling channels are connected.
Commenting on the RW1-300C, UAVHE's Andrei Bogdanov said; "What is unique about this model is that it is one of the first Wankel hybrids to be designed using aeronautical technologies and principles. The fuel pump, pressure regulators and cooling loops are duplicated for reliability, speed or torque can be adjusted, and an electric booster increases power by 20% in takeoff modes. Features like these empower UAV manufacturers to make devices on a fundamentally new level. This is the first engine with such a degree of systems integration designed to be convenient specifically for aircraft developers."
Find out more about UAVHE's RW1-300C Hybrid Wankel Engine here >>