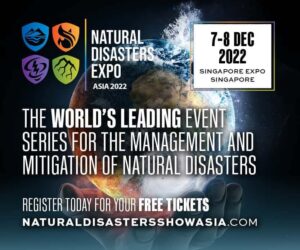 The Natural Disasters Expo will be held in Asia for the first time, 7-8 December 2022 at the Singapore Expo, welcoming experts from around the globe to exhibit the latest revolutionary solutions for natural disaster management and mitigation. 
Originally scheduled for 1-2 December 2021, the expo was postponed due to the effects of the COVID-19 pandemic, but event organizers Fortem International are excited to launch the expo in 2022 in Asia. 
Climate change has become a significant topic in recent years, with the younger generations expressing their concerns about how this is impacting the planet. Human activity is causing the increase in the concentration of greenhouse gasses in the Earth's atmosphere, resulting in global warming. Evidently, this has exacerbated climate hazards, and there has been a huge spike in natural disasters over the past few years, including flash floods, wildfires and cyclones. 
The past 20 years has seen an increase in climate-related disasters, with 6,681 between 2000 and 2019, compared to 3,656 between 1980 and 1999 (United Nations Office for Disaster Risk Reductions, 2020). 
The Natural Disasters Expo will highlight how vital it is, now more than ever before, to take action in order to reduce the number of injuries, fatalities and loss of livelihoods caused by natural disasters.
The Natural Disasters Expo has been specifically designed to support the mitigation of the most costly climate-related disasters. It promises to provide the most effective solutions, showcasing products and services from cutting edge exhibitors including the likes of Global Smart Rescue and the Flood Mitigation Industry Association. 
Visitors will also receive exclusive information delivered by keynote speakers from some of the biggest names and associations within the industry, including Bruce Wong from International Association of Emergency Management and Zheng Kaiyuan from ASEAN Specialized Meteorological Center.
The expo will also welcome exhibitors from the unmanned industry who will showcase how their products, technologies and services can help mitigate the impact of natural disasters.
The Natural Disasters Expo Asia has been preparing a packed schedule that will enable visitors to access the tools and knowledge needed to help communities when they are faced with these tragedies.