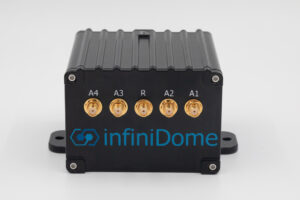 infiniDome has released the GPSdome 2, its newest anti-jamming solution that can provide simultaneous dual frequency protection from three directions of attack for small to medium tactical Unmanned Aerial Vehicles (UAVs) as well as manned and unmanned ground vehicles.
According to infiniDome, GNSS is notoriously vulnerable due to its weak signal from orbiting satellites. This, together with the wide availability of cheap jamming devices and the rise of hostile jamming attacks worldwide, leads to the need for effective anti-jamming solutions.
Disruptions in critical Positioning, Navigation and Timing (PNT) data mean loitering munitions that never find their targets, UAVs that fall to the ground, and ground vehicles that cannot be managed, with impaired Identification Friend or Foe (IFF).
infiniDome's new GPSdome 2 has been designed to protect mission-critical assets in GPS-challenged environments in a more efficient and cost-effective manner than ever before. With a small form factor (500g, 87 x 91 x 61.55mm) and minimal power consumption, GPSdome 2 is designed for loitering munitions as well as drones and small-medium UAVs, increasing resiliency while prolonging mission time and providing a superior ROI.
Fully retrofit and completely standalone, infiniDome claims that the system is compatible with almost any off-the-shelf GNSS receiver on the market as well as standard active GNSS antennas, meaning that it can be integrated into existing GPS systems or into new product lines, manned or unmanned, including LAVs and ATVs.
With sophisticated algorithms and a proprietary RFIC (chip), infiniDome's GPSdome 2 analyzes the RF interferences in the environment, combines multiple antenna patterns to create and dynamically steer three nulls in the direction of any hostile signal.
One of the unique features of the GPSdome 2 is how it provides simultaneous dual frequency protection (GPS L1 + L2 or GPS L1 + GLONASS G1), creating up to three nulls, protecting from three jamming directions within each band in real time, making it ideal for PNT applications.
Furthermore, the GPSdome 2 also provides the platform and its command and control, actionable, real time intelligence and analysis on GPS attacks it detects in the field.
"We are incredibly proud to present our latest solution for protecting small-medium UAVs and ground vehicles from GPS jamming," said Omer Sharar, infiniDome's CEO. "With disruptive C-SWaP benefits as well as dual frequency and multi-directional nulling capabilities, we're sure our latest offering will hit the mark."
The GPSdome 2 is a dual-use, non-ITAR device and comes with optional mil-spec compliance. Only recently launched, it has already been chosen by a leading Israeli defense contractor for integration with their platforms.