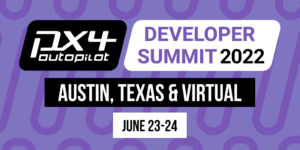 The Dronecode Foundation has confirmed that its annual flagship conference for the drone development community, the PX4 Developer Summit, will be coming to Austin, Texas June 23-24 for the first in-person event in two years. Attendees will get a complete overview of how the PX4 Ecosystem works and the opportunity to network with the maintainers, contributors, and critical stakeholders advancing open-source drone technology.
Click here to register for the conference and to view the detailed events program
The PX4 Developer Summit features the most robust program on open-source drone development available, including 40+ sessions, workshops, and keynotes, led by the leading experts in aerial robotics. Organizations like NASA, Auterion, MathWorks, NXP Semiconductors, and UVify send representatives to share their insights on open-source technologies like PX4, MAVLink, QGroundControl, and ROS 2. A portion of the program will be available for those who can only attend virtually.
Some of the featured speakers include:
Markus Achtelik, VP Engineering, Auterion
Brian Behlendorf, General Manager, OpenSSF
Tully Foote, ROS Platform Manager, Open Robotics
Brandon Gilles, CEO, Luxonis
Robert McSwain, Aerospace Engineer, NASA
Lorenz Meier, Founder and CEO, Auterion
Ramón Roche, General Manager, Dronecode Foundation
Katherine Scott, Developer Advocate, Open Robotics
Paul Stubbs, Principal Program Manager, Microsoft
Lorenz Meier, Chief Executive Officer of Auterion, will give the opening keynote about the state of the open-source drone ecosystem on June 23. Lorenz is the founder of many critical open-source projects for the drone industry, including PX4, MAVLink, QGroundControl, and the Pixhawk autopilot creator.
Industry-leading hardware manufacturers and software companies like Auterion, UVify, and NXP Semiconductors have sponsored the event and will be showcasing their latest releases.
"The open ecosystem is thriving, and adopters are reaping the benefits of open collaboration by embracing standards they can use to interface with each other," said Ramón Roche, General Manager of the Dronecode Foundation. "Open source is way more than software, and companies are beginning to notice the many benefits of open collaboration."
The Dronecode Foundation has spared no expense on expanding beyond its previous in-person events, adding unique attendee experiences to the schedule. UVify will provide a drone light show, the opening night reception, a Jobs Theater for those seeking to start or advance their career in the drone industry, and an After Party sponsored by Guinn Partners at the Capital Factory. Additionally, attendees will have the option of touring the Center for Autonomous Robotics on Saturday, June 25. Some lucky attendees will be going home with free Pixhawk hardware (latest generation), and everyone will be going home with PX4 gear.
The PX4 Developer Summit is brought to you by the Dronecode Foundation with the help of its sponsors Auterion, NXP Semiconductors, UVify, Holybro, KittyHawk, ModalAI, Technology Innovation Insitute, CUAV, and media partners Commercial UAV Expo, DroneLife, Full Crew, Full Tilt, Hackster.io, P3 Tech Consulting, Unmanned Systems Technology, Weekly Robotics, and is operated by the Linux Foundation.