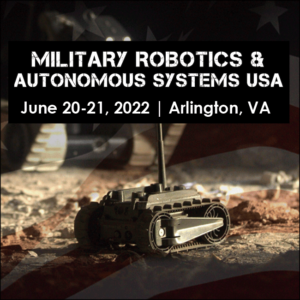 SAE Media Group has announced that branches of the US Army will be sharing insight into their developments in human-machine teaming at the Military Robotics and Autonomous Systems (MRAS) USA Conference, in Arlington, VA, June 20-21, 2022.
Inside the US Army's plan for autonomous weapons is the idea to leverage and integrate the best attributes of both human cognition and machine-enabled autonomy.
"The guidance that we've received from our most senior leaders is to use capabilities like artificial intelligence, or advanced robotics, to augment soldiers, not necessarily to replace them," Maj. Gen. John Rafferty, director of Army Futures Command's Long Range Precision Fires Cross-Functional Team, commented in an interview.*
The upcoming Military Robotics and Autonomous USA Conference will feature in-depth briefings on how human-machine teaming in the future will enhance the operational and institutional effectiveness of the US Army, international allies, and its partners.
The speakers and their presentations covering human-machine teaming include:
US Army Robotics Requirements for Future Ground Operations – presented by Colonel Rob Ryan, Director, Robotics Requirements Division, Maneuver Capability Development Integration Directorate (MCDID), US Army Futures Command
Robotics at West Point – presented by Colonel Christopher Korpela, Director of the Robotics Research Center, US Military Academy at West Point
Special Operation and Robotics Teaming in Contested Environments – presented by Major Samuel Albahari, Project Officer: Artificial Intelligence for Small Unit Maneuver, US Special Operations Command
With extensive support from the US Army and wider Department of Defense (DoD), and an unrivalled speaker line-up, the agenda for Military Robotics and Autonomous Systems USA 2022 will provide key updates on the enormous investment in land robotics from US forces and international militaries, with the aim to increase warfighter lethality and remove soldiers from dangerous situations.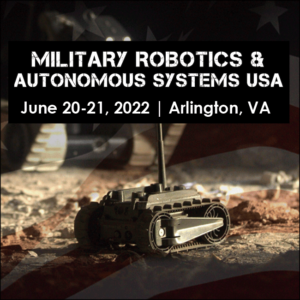 Military Robotics and Autonomous Systems USA Conference
20-21 June, 2022 | The Hilton Arlington, Virginia
Sponsored by: Fortem Technologies
For sponsorship enquiries, please contact Josh Wilson on:
Tel: +44 (0) 20 7827 6024 / Email: [email protected]  
For more information on the event, contact Callum Kenmure on:
Tel: +44 (0) 20 7827 6138 / Email: [email protected] 
*source: nationalinterest.org