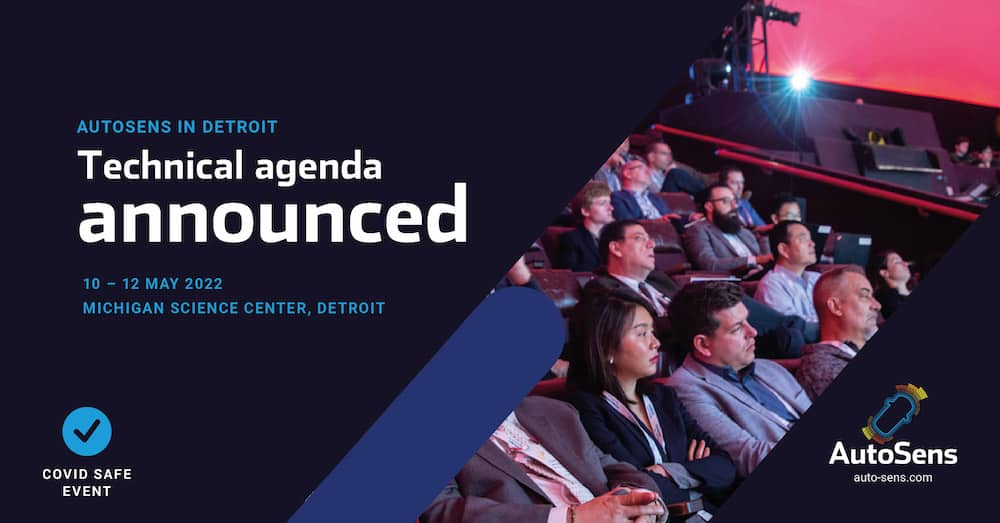 The full AutoSens agenda is now available for the Detroit conference, returning to the Michigan Science Center this year, 10-12 May.
AutoSens Detroit is a meeting place for engineers working in ADAS and autonomous vehicle technology, with a technical agenda featuring over 40 speakers from up and down the perception technology supply chain.
Bringing together leading names in sensor development, the AutoSens agenda goes into the technical specifications of sensors across presentation sessions, panels, roundtables and technical tutorials.
The conference welcomes Dr. Eiichi Funatsu, Senior Director CTO Office at OMNIVISION to discuss non-RGB color filter options, and Sergey Velichko, Senior Manger at onsemi to share more about advanced features in High Dynamic Range image sensors. Charles Kingston, Application Development Principal Engineer, ST Microelectronics will explore the key sensor specifications to generate the expected user experience in driver monitoring.
Technical developments and research in LiDAR and RADAR is a key focus, including sessions on design for manufacturing considerations, RADAR simulation, selecting the right enabling technology and RADAR digital signal processing. Attendees will hear from companies up and down the supply chain, including Valeo, Synopsys, Xilinx and Baraja, with the opportunity to meet and ask questions to the speakers.
Further keynotes include an exploration of how to achieve full autonomy with Shane McGuire, System Architect at Cruise, a review of challenges in developing exterior cameras with Boyd Fowler, CTO at OMNIVISION and a look at expectations for ISO 26262 and SOTIF for sensor suppliers with Mark Costin, Distinguishes Functional Safety Engineer at NVIDIA.
The conference will also address key questions via four panel discussions, with topics ranging from what the future supply chain will look like to whether standardizing OS is a loss of individuality, and how soon LiDAR equipped vehicles will be on our roads. Panellists across these discussions will represent North American Lighting, Strategy Analytics, MOBIS, indie Semiconductor and General Motors.
New topics for the 2022 conference include looking at effective sensor cleaning and coatings for LiDAR and cameras, which will enhance safety and performance in ADAs, in addition to exploring a motion-first approach to perception.
Full pass holders can choose to attend two of four technical tutorials on 10th May. Confirmed tutorials include a LiDAR tutorial led by esteemed expert Dr. Paul McManamon, which will explain the various LiDAR technology types, their design and build, their market status, and the technical considerations for using LiDAR in automotive, plus, a look at Self-Driving Cars Scene Perception Under 'Uncontrolled-Unseen' Environments with Dr. Sos Agaian, Distinguished Professor, Director, Computational Vision and Learning Lab, Computer Science Department, College of Staten Island, CUNY. Functional safety topics such as how to design fail-operational, hard real-time systems with representatives from TTTech and Retrospect will also be explored. Miriam Schiffermann of Image Engineering will lead the final tutorial on image quality and camera calibration.