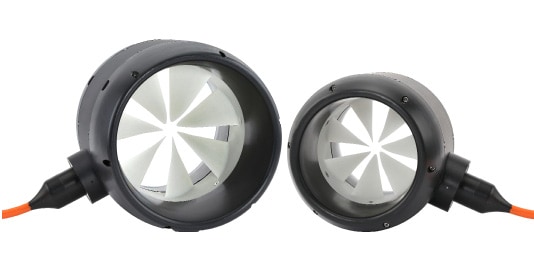 Copenhagen Subsea, a leading provider of electric underwater thrusters for subsea robotics systems, has partnered with Unmanned Systems Technology ("UST") to demonstrate their expertise in this field. The 'Gold' profile highlights the company's thrusters for offshore ROVs (remotely operated vehicles), AUVs (autonomous underwater vehicles) and USVs (unmanned surface vessels), as well as the Gorilla offshore inspection ROV.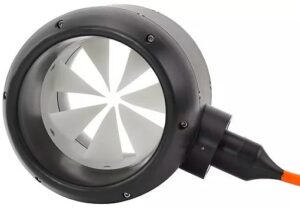 Copenhagen Subsea's powerful and silent underwater electric thrusters feature an unprecedented power-to-size ratio, delivering a fast response time and excellent maneuverability making them ideal for ROVs, USVs and AUVs. With only one moving part, the thrusters exhibit a low acoustic signature and are ultra-reliable, with a thousand hours of in-water endurance tests.
Thruster solutions can be provided with a combination of different propellers, as well as inlet and outlet rings that can be configured in two different setups – asymmetric configurations for main propulsion in vehicles that have a forward direction, and symmetric configurations for station-keeping ROVs.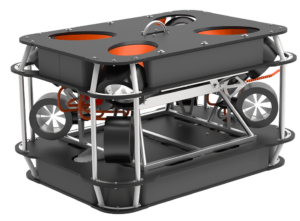 The Gorilla ROV is an offshore ROV designed to undertake challenging missions in harsh underwater environments. Featuring eight powerful electric underwater thrusters, the system is equipped with an intelligent Dynamic Positioning system that provides automatic control of position, depth, altitude, heading, pitch and roll.
The electronic subsystems of the Gorilla ROV are based around highly reliable industrial-grade components from OMRON, built to handle extreme working conditions including high current inrush and current overload from the thrusters. The open platform and widely available spare parts allow users to easily maintain the system themselves.
The Maneuvering Subsea System is a complete electric propulsion solution that incorporates a control panel, control cabinet, motorized cable winch, and Copenhagen Subsea's innovative subsea thrusters. Industrial-grade hardware provides an excellent level of reliability and maneuverability, resulting in precise positioning of subsea tools with extremely fast response times.
The versatile system can be adapted to a wide range of subsea equipment, tasks and applications, such as cable and pipe detection, seabed installation, and inspection and repair.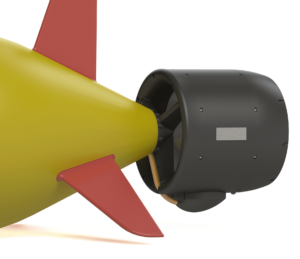 Copenhagen Subsea's AUV propulsion solution is based around their highly reliable electric thruster technology, and features a specially-designed 3D-printed composite bracket that attaches the thruster to the AUV and also acts as an inlet nozzle.
The seawater-cooled AUV thrusters can be customised to fit specific electrical requirements, and are equipped with an angled penetrator for easy mounting. Brackets are available to fit all Copenhagen Subsea thruster sizes, from VS to VXL.
To find out more about Copenhagen Subsea and their electric underwater thrusters and ROVs, please visit their profile page: https://www.unmannedsystemstechnology.com/company/copenhagen-subsea/