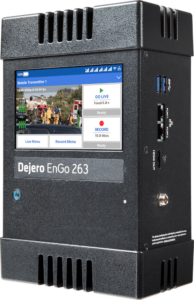 Dejero has launched the new EnGo 263, a wireless connectivity solution that provides high-definition, real-time video from Unmanned Aerial Systems (UAS) and other camera sources, enabling police and fire department commanders to make smarter, faster and safer decisions.
The EnGo 263 uses Dejero's award-winning Smart Blending Technology to combine diverse connections from multiple providers. This patented technology manages the fluctuating bandwidth, packet loss, and latency differences of individual connections in real-time to enhance bandwidth and reliability while expanding the areas that users can operate in. Smart Blending Technology circumvents the vulnerability of relying on a single connectivity path.
To simplify setup and interoperability with UAS and other equipment, the EnGo 263 enables UAS operators to be up and running with the press of a button. Its large capacitive touch screen provides a live view, status information, and in-field control of the transmitter. Built-in automation and a new wired remote makes it easier for personnel to control the transmitter and monitor status if wearing the transmitter in a backpack. 

The new mobile transmitter features antennas and RF design that ensure ultra-reliable cellular reception in poor coverage and crowded areas, and where infrastructure has been damaged. With high-efficiency antennas that maximize reception, the EnGo 263 delivers unmatched performance in the field, enabling police and fire departments to reliably transmit real-time tactical video so that incident commanders can make safer decisions.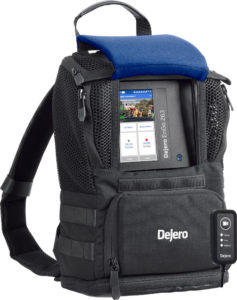 "With EnGo 263, police and fire departments can capture high-res video in the field and send it in real-time to the command center and field commanders over a resilient, secure connection," explained Yvonne Monterroso, director of product management at Dejero. "With this level of enhanced situational awareness, more actionable intelligence can be shared and commanders can make more informed, quicker decisions to coordinate more effective responses and keep field personnel and the public safe."
Featuring a cryptoprocessor to authenticate the hardware and a security-hardened Linux OS, EnGo 263 also uses AES256 encryption for enhanced security to meet the security and privacy demands of the public safety and government sector.

As with previous EnGo transmitters, EnGo 263 is built with aircraft-grade aluminum in a monocoque construction that is lightweight and strong, while polycarbonate ABS bumpers protect the transmitter from shocks and drops. An optional Vehicle Antenna Dock, that is shock and crash-tested, enables the EnGo 263 to be securely mounted in vehicles, on unmanned platforms, and to external antennas to boost reception. 
The ability of EnGo 263 to deliver real-time video from the field opens up new opportunities for police and fire departments' UAS programs such as search and rescue, disaster response, fire operations, and crisis management.