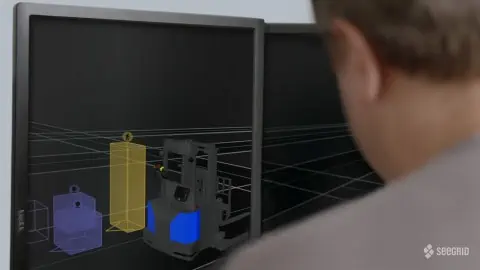 Seegrid Corporation, the leader in Autonomous Mobile Robots (AMRs) for material handling, and Applied Intuition, a simulation and software tools provider for autonomous vehicle development, will collaborate on creating 3D virtual warehouses, factories, and distribution centers in support of accelerating advancements in autonomous technology for the material handling industry. 
The partnership involves a significant investment by Seegrid and will enable Seegrid to quickly validate product innovations in more environments and use cases across the supply chain than feasible with manual testing.
Seegrid launched several new robot models in 2021, including the company's newest AMR, Palion Lift, the only autonomous lift truck in the market with industry-leading 3D perception.
Applied Intuition's simulation tools deliver high-fidelity simulation modeling to comprehensively test and rapidly accelerate autonomous vehicle development and deployment.
"Applied Intuition's platform simulates a wide range of environments, layering in different conditions to safely pressure test next generation ideas in autonomous vehicle technology," said Peter Ludwig, Chief Technology Officer and Co-Founder of Applied Intuition. "Manufacturing and distribution facilities are a complex, highly dynamic operational design domain—we're thrilled to collaborate with industry leader Seegrid to help enable the rapid acceleration of the growing AMR market."
"Consumer demand and a shrinking labor force are putting pressure on nearly every industry, and in turn, putting pressure on AMRs to effectively and consistently interpret and respond to ever-changing situations," said Jim Rock, Seegrid's Chief Executive Officer. "Our customers rely on Seegrid to deliver industry leading automation solutions that can safely ensure productivity—highly advanced simulation during ideation, test, and development speeds up our ability to deliver next generation AMRs best equipped to address the unpredictable events in facility workflows."
The companies will also co-develop advanced simulation features and environments to support use cases unique to supply chain mobile automation. The collaboration is a development effort from Seegrid's Blue Labs research and development team dedicated to quickly identifying new automation technologies for its leading global brand customers in logistics, ecommerce, and manufacturing.
Find developers of Simulation Software for unmanned & autonomous testing & design >>