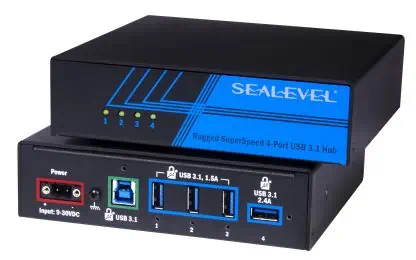 Sealevel Systems has introduced the Rugged SuperSpeed 4-Port USB 3.1 Hub,  a USB 3.1 hub that can achieve SuperSpeed operation while meeting the requirements to supply 1500mA per port simultaneously, and in extreme environments. 
The hub features a rugged, industrial housing, expansive ESD protections and an industry-leading -40°C to +85°C operating temperature.
The Rugged SuperSpeed USB 3.1 Hubs from Sealevel are able to maintain reliable operation when subjected to thermal challenges. The systems also have the potential for shock and vibration.
In the path of the summer release of Sealevel's 7-port USB 3.1 hub, Sealevel responded to customer requests for an even smaller footprint and reduced port count. Capitalizing on Sealevel's in-house experience with SWaP optimization, the 4-port hub maintains the robust capabilities of the 7-port version while meeting customer needs.
Key features include:
USB 3.1 compliant, providing up to 5 Gb/s data rate to the host
-40°C to +85°C operating temperature
Individual port power management
Up to 1500mA available on all ports simultaneously
Comprehensive input power protections (reverse polarity, voltage, surge, overcurrent, under-voltage, over-voltage)
Includes 2-meter USB 3.0 type A to USB 3.0 type B device cable
Wide operating voltage range (9V-30V)
USB 3.1 Compliant & Backwards Compatible with Legacy Equipment
The four-port USB hub supports the full bandwidth of USB 3.1, allowing connection of legacy peripherals alongside newer devices without disruption. The hub is backward compatible with USB 2.0, 1.1 and 1.0 devices.
The HUB4SS-BA ships with port 4 configured as a Charging Downstream Port (CDP) capable of supplying up to 2.4A of current to a connected device. The remaining three CDPs supply up to 1500 mA to each connected device.
The USB 3.1 hub is fully compatible with standard USB cables but includes SeaLATCH USB type B connectors. When used with optional SeaLATCH USB cables, a high-retention thumbscrew prevents accidental cable disconnection which makes it ideal for high shock and vibration applications.
Features
Self-powered USB 3.1 hub provides four Charging Downstream USB Ports (CDPs)
One CDP supplies up to 2.4A to a connected device
Remaining CDPs supply up to 1500mA to each connected device
Device offers SDP charging when powered by external USB (up to 500mA for USB 2.0/1.1/1.0 connections or up to 900mA for USB 3.0/3.1 connections)
Supports SuperSpeed (5Gb/s), high-speed (480Mb/s), full-speed (12Mb/s) and low-speed (1.5Mb/s) operation
ESD protection

±8kV on Each USB 2.0 Data Line (D+, D-)
±15kV on Each USB 3.0 Data Line (SSTX+, SSTX-, SSRX+, SSRX-)

Optional wall-mount AC power supply accessory that outputs 24VDC @ 2.71A