ModalAI has released two new products that help developers create smaller, smarter and safer robots and drones quickly and easily: the VOXL CAM perception engine and the Seeker micro-development drone, the world's first micro-development drone optimized for development of both indoor and outdoor autonomous navigation.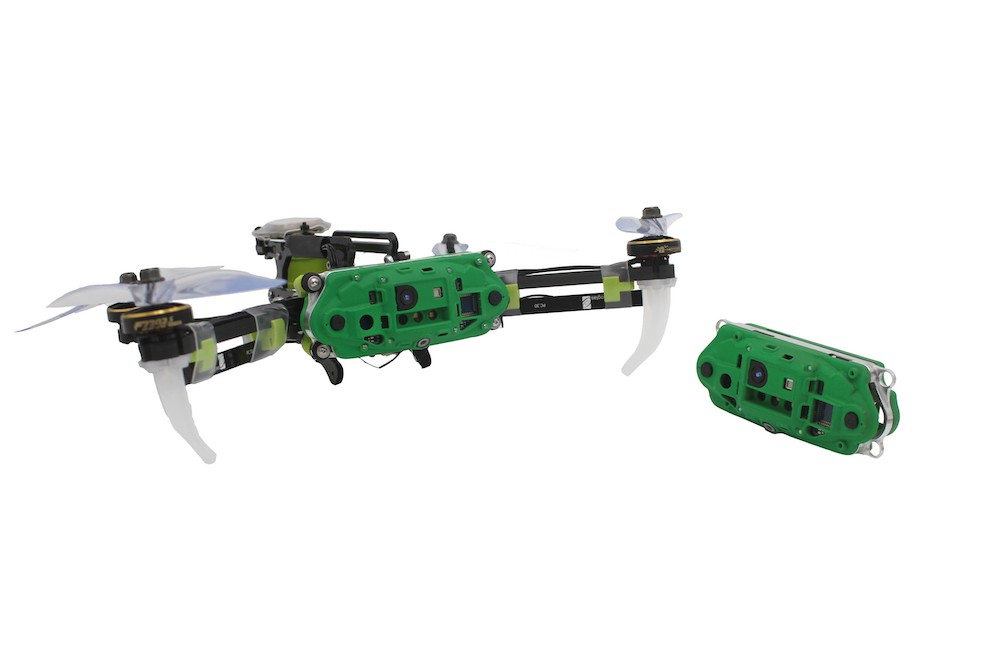 The VOXL CAM is an all-in-one compute and perception engine that enables easier development of smaller, smarter and safer drones, robots and Internet of Things (IoT) devices with GPS-denied navigation, depth mapping, Unmanned Aircraft Systems (UAS) flight control and cellular connectivity. The credit card-sized VOXL CAM powers the Seeker micro-development drone, ModalAI's smallest drone to date.
"The VOXL CAM platform provides smarter perception and safer navigation for autonomous devices beyond drones. For commercial and industrial developers and researchers who want powerful perception and autonomy, the VOXL CAM's small form factor and modularity make it easy to mount onto drones, robots and wearable IoT devices," said Chad Sweet, CEO, ModalAI. "It condenses the computing power of seven PCBs and four concurrent image sensors into one compact, modular platform."
Built on the foundation of the VOXL Flight Deck, the VOXL CAM is a single Printed Circuit Board (PCB) that easily attaches to robots, drones or IoT devices to activate autonomy for a breadth of applications.
The VOXL CAM perception engine includes the integrated Qualcomm Snapdragon 821 chipset, which enables GPS-denied navigation, depth mapping, object detection, obstacle avoidance and Simultaneous Localization and Mapping (SLAM).
The VOXL CAM perception engine has four image sensor concurrencies onboard, including:
Time of Flight (ToF) for indoor depth mapping
Stereo pair image sensors for outdoor depth mapping
Tracking image sensor for Visual-Inertial Odometry (VIO) localization
It pre-integrates a PX4 drone flight controller, ModalAI's Flight Core. It also has three onboard Inertial Measurement Units (IMU) and a barometer for controlling flight height.
The Seeker micro-development drone has a Small Form Factor (SFF) and enhanced visual capabilities, making it optimal for UAS to safely and autonomously navigate tight spaces indoors and outdoors. The base weight is 57.5 grams and 87 grams with the flight controller and modem installed. It can also operate on the 4G cellular network, depending on the configuration.
"The Seeker drone is the smallest reference drone ModalAI has designed to date. It's a true micro-drone with powerful computing in a small form factor perfect for navigating GPS-denied, tight spaces that people can't reach," said Sweet. "Its micro-design unlocks a plethora of use cases for developers ranging from asset inspection to mission-critical."
Both products are built on Blue UAS Framework components VOXL Flight and Flight Core. ModalAI's autopilots are Assembled in America and compliant with the National Defense Authorization Act for Fiscal Year 2020 (NDAA 2020).