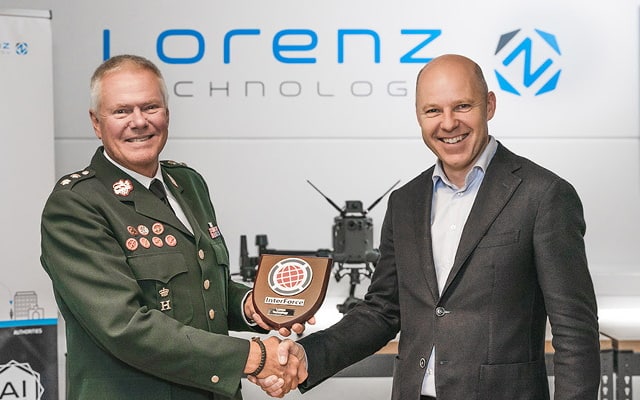 Lorenz Technology, a developer of AI and edge computing technologies for UAVs unmanned aerial vehicles), has confirmed that the company is now a member of InterForce. The membership shield, which was handed over by Lieutenant-Colonel Flemming Bonavent Hansen of the Danish Armed Forces, will be displayed in the Lorenz Technology headquarters in Odense.
InterForce is an organization that aims to develop strong collaboration between the Danish Armed Forces/Civil Defence and the country's private and public sectors. By joining InterForce, Lorenz Technology affirms its support to the Reserve Force, a robust and flexible armed reserve, home guard, part-time fireman corps, and volunteer coastal rescuer service. To ensure that the Reserve Force is available in times of need, Danish employers provide support to people who hold regular civilian employment as well as a part-time position in the Force.
More than 2,000 Danish businesses, societies and other organisations are members of InterForce, thereby publicly stating their support for the Reserve Force. Together they work on enhancing the overall knowledge in society concerning the competencies of military personnel, as well as bringing valuable knowledge from the industry into the armed forces.