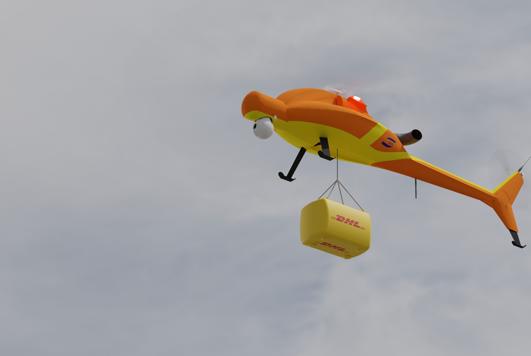 Pen Aviation and DHL Express have signed a Memorandum of Understanding (MOU) to commercialize time-critical goods deliveries with unmanned aerial vehicles (UAVs). The initiative, which also involves drone operator Raya Airways, will utilise Pen Aviation's drone-based solutions.
DHL will participate in a Proof of Commercialization (POC) that will demonstrate the commercial viability of time-critical cargo drone delivery for port logistics missions, focusing on the maritime industry. The POC will undertake first- to last-mile missions jointly conducted by DHL, Pen Aviation, and Raya Airways, and will specifically demonstrate the cost and time optimization of a fleet of drones to streamline port logistics and distribution activities for goods at commercial ports.
PEN55V, Pen Aviation's medium-size cargo drone, will pick up and drop off packages weighing up to 12kg from the cargo ship deck to the port and vice versa, both in the day and at night. DHL and Pen Aviation will work together to certify and utilize the PEN55V to move shipments to seaports over long distances. The long-term goal is to set up a mixed fleet of PEN55V and PEN1360V, Pen Aviation's heavy-size cargo drones designed and manufactured in partnership with Cavok-UAS.
The PEN55V's micro turbine requires 3 times less energy to fly than battery-powered UAVs with the same payload, and does not cause any pollution challenges related to battery manufacturing, charge and recycling. In line with Deutsche Post DHL Group's aim to achieve net-zero emissions by 2050, this solution supports Pen Aviation's drive toward clean operations for climate protection.
This initiative will be performed in compliance with the Civil Aviation Directive CAD 6011, a regulation by the Civil Aviation Authority of Malaysia which allows the development of unmanned aircraft technologies. The POC will demonstrate Pen Aviation's ecosystem viability to successfully deliver high-volume automated logistics operations with a 24/7 UAV-based freight service.
Julian Neo, Managing Director for DHL Express Malaysia & Brunei, commented: "Cargo drones will be the next generation of transportation in logistics. This POC comes in the wake of the recent 12th Malaysian Plan announcement where the Government of Malaysia highlighted the importance of seamless connectivity and reliability in transport and logistics. The use of drone technology will enable us to reach rural communities especially in East Malaysia, where critical items such as vaccines, medicines, and medical devices are needed while allowing us to fulfil our purpose of "Connecting People and Improving Lives."
Jean-Bernard Boura, Managing Director and Founder of Pen Aviation, said: "We decided to tackle every single pain point that hinders UAV-based businesses today, starting with UAV designs that can meet aviation certification standards. But above and beyond the UAV design, we are excited to confront our overall ecosystem to DHL demanding cargo environment and demonstrate our business enabling logistics solutions, whatever the mile, whatever the mode of transportation."