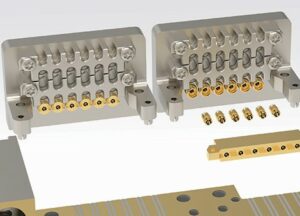 TE Connectivity has introduced the NanoRF Edge Launch connector, a new solution that can integrate the RF above an optical interconnect for military and radar embedded computing applications such as UAVs (unmanned aerial vehicles) and robotics. The NanoRF connector meets the rigorous requirements of VITA 67.3, featuring a simple and standardized interface with VPX plug-in computing modules including RF switches, tuners, software-defined radios and other embedded computing systems.
The NanoRF Edge Launch connector reduces space requirements, eliminating the need for cables and resulting in a more rugged product and a lower SWaP (size, weight and power) footprint. This smaller size comes without any detriment to performance, providing high density and high frequency up to 70Ghz. The NanoRF's bullet adapter reduces tolerances and helps to allow for decreased mating force, which is required for stacked boards.
TE's NanoRF connector is configurable for different sizes and contact counts to ensure it supports VITA 67.3 interface for VPX industry standard implementations or custom applications. This provides customers access to industry-standard products with VPX and SOSA compliance to support their plug-in computing modules.
Clint Schlosser, product manager for TE's Aerospace, Defense and Marine division, commented: "We have taken our rugged, high-density NanoRF product and developed an edge launch solution, which can be used in VPX plug-in modules to eliminate cabling. TE's Edge Launch connector is also multifunctional and is configured to work alongside MT's giving our customers the ability to combine optical and electrical solutions within the same module."