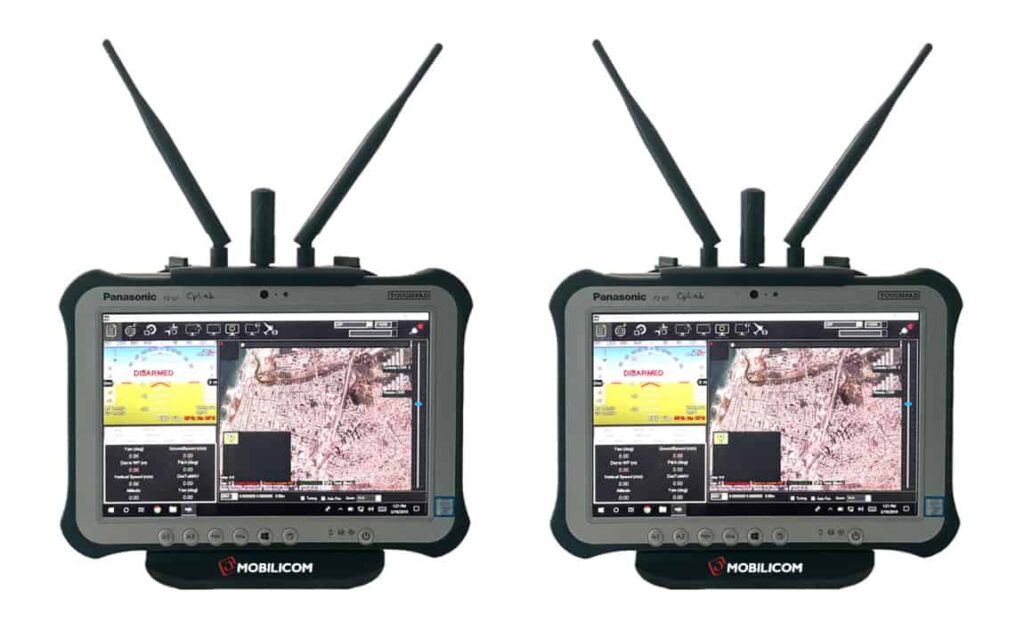 Mobilicom has confirmed that the company will be showcasing its new GETAC and Panasonic tablet-based touch controllers for UAVs (unmanned aerial vehicles) at the AUVSI Xponential 2021 trade show, which is taking place from August 16 to August 19.
The 10″ Touch Controller is a ruggedized tactical drone GCS (Ground Control Station) based around a GETAC Toughpad tablet with an Intel Core i5 or i7 processor. It is designed to support multiple drones in both swarm and fleet operations with a variety of payloads, and is ideal for mission-critical enterprise and government applications including security, public safety and disaster recovery.
Featuring an all-weather IP65-related design and a sunlight-readable Full HD LCD touchscreen, the Touch Controller 10″ operates on 2.4 GHz and 5.8 GHz ISM frequencies, with 900 MHz and other frequency options also available. It supports point-to-point, point-to-multipoint, relay, and mesh network topologies, enabling real-time HD video and broadband data content transmission by multiple viewers simultaneously.
The 10″ Touch-P Controller features a similar rugged design, and is based around a Panasonic FZ-G1 Toughpad with an Intel Core i5 processor. Supporting the same network functionalities as the 10″ Touch Controller, it operates on the 2.4GHz ISM frequency as standard, with 900Mhz, 5.8GHz ISM, and other optional frequencies also available.
To find out more about Mobilicom's drone Touch Controllers, visit their website, or see them at booth #2353 at AUVSI Xponential 2021.