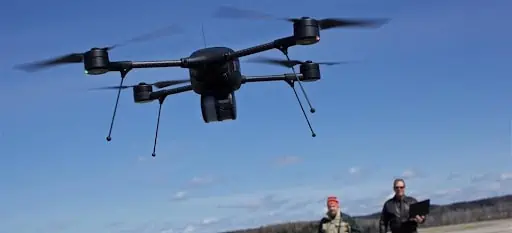 Empire State Development (ESD), New York's chief economic development agency, has announced the five teams selected to take part in round five of the GENIUS NY business accelerator program, which is the world's largest competition of its type for the UAS (unmanned aerial systems) industry. The announcement was made at the 2021 AUVSI XPONENTIAL conference.
Supported by the CNY Rising Upstate Revitalization Initiative and administered by CenterState CEO at the Tech Garden in downtown Syracuse, these five teams – all startup unmanned systems industry companies – will participate in a yearlong program. The five finalists include teams with international and New York state representation and were selected from a pool of more than 600 submissions. They will compete for $3 million in direct investment, with one grand prize of up to $1 million and four $500,000 awards.
"The GENIUS NY competition has helped to establish Central New York as a hub for unmanned aerial systems by attracting the next generation of innovative entrepreneurs," said Empire State Development Chief Operating Officer and Executive Deputy Commissioner Kevin Younis. "New York's ongoing UAS investment will ensure that continued industry leadership, bringing top quality jobs and growth to the region and beyond."
The five finalists will shortly move into The Tech Garden, Central New York's premier technology incubator, in downtown Syracuse, and will begin to refine work on their business cases which they present at the Pitch Finals event.
"We look forward to welcoming these teams from around the world to our community so we can support their growth and integrate them into the thriving ecosystem we have developed for the unmanned systems industry," said Kara Jones, director of GENIUS NY. "Over the next year, they will receive targeted business development resources and mentoring that, coupled with the state's high-value investment, will ensure their success. It has been incredibly rewarding to see the growth of the teams from previous rounds of the competition and I know this new cohort will join them to further establish The Tech Garden as the leading place to grow your UAS company."
The five selected finalists are:
Airial Robotics (Hamburg, Germany): Airial Robotics develops commercial UAVs for surveillance, logistics and agriculture modeled after gyrocopter/helicopter hybrid that are challenging industry performance limits for safety, payload, range and speed.
Airtonomy (Grand Forks, North Dakota): Airtonomy's push-button software automates uniform collection, packaging and analysis of data acquired by autonomous vehicles and sensors, specifically targeting critical energy infrastructure.
CarScanner (Krakow, Poland): CarScanner develops a used car inspection robot that autonomously navigates around a car and automatically detects scratches, dents, repainted body surfaces, and other damages with structured light, thermography and machine-learning algorithms.
Circle Optics (Rochester, New York): Circle Optics develops high-resolution, wide field-of-view imaging systems that enable real-time capture without the time and expense of post-processing required by other multicamera systems. Paired to a UAS, this technology can enable immersive telepresence, better autonomy and a platform to run edge applications such as self-localization, object recognition/tracking, and volumetric data capture.
WindShape (Geneva, Switzerland): WindShape develops indoor weather simulation technology to test and certify drones under controllable and repeatable flight conditions to enable autonomous and scalable drone applications.
Throughout the program, teams will engage with community leaders, mentors, and advisers from leading companies in Central New York while also participating in tourism activities. The goal is to encourage all participants to put down roots and stay in the region following the conclusion of the program.
"These companies were selected from the most competitive pool of applications we have ever seen," said Jeff Fuchsberg, vice president of Innovation and Entrepreneurship at CenterState CEO. "This year's applicant pool and high-growth finalists highlight the program's ability to drive success and impact the rapid growth of participating teams. As these teams join our innovation ecosystem, they will also benefit from a network of resources we've established to support startup companies at The Tech Garden."
"The success of this program can be seen in the companies from prior rounds that continue to grow and create jobs in our community," said Rob Simpson, president of CenterState CEO. "Their continued success supports regional efforts to be a global leader in the unmanned systems industry."
Since 2017, GENIUS NY has invested $12 million in 22 companies from around the world and brought them to Central New York to participate in the yearlong in-residence accelerator where they receive assistance with product development, business development, and networking opportunities with investors and business leaders. Participants are also integrated into the larger regional effort to grow unmanned aerial systems in Central New York and the Mohawk Valley, and will have access to world-leading infrastructure and testing assets. Participants also have opportunities to connect with investors for follow on funding. Since 2017, GENIUS NY companies have raised more than $40 million in follow-on funding and have created over 50 jobs in New York.
State Senator Rachel May said, "I applaud all of the finalists and participants in the GENIUS NY competition and look forward to the investments they will make in our region and economy. The energy and innovation they represent is vital to continuing to build a thriving entrepreneurship economy in Central New York. By funding business incubators and nourishing the best talent in our region, we are building a platform from which our local economy can prosper as we retain the talent we need to make our region stronger."
State Senator John W. Mannion said, "I've lived in Central New York my entire life, and I watched as friends and family lost their jobs when manufacturing plants closed during bad times. Projects like CNY rising are building the economy of the future – I'm so excited to welcome these companies to my hometown and I hope to see them thrive."
State Senator Al Stirpe said, "Congratulations to all of these teams selected to take part in this year's GENIUS NY Competition. This program has made Central New York a hub for innovations that will not just create jobs for today, but for the futures to come."
Assemblymember William B. Magnarelli said, "Congratulations to this round of finalists. By drawing these companies to the Tech Garden through the GENIUS NY competition, Onondaga County continues to establish itself as a world leader in the drone and technology industry. The partnerships and opportunities created locally during the entrepreneurial stage create a catalyst for growth and industry leadership in this world-wide cutting-edge industry."
Assemblymember Pamela Hunter said, "The five teams selected for the next round of the GENIUS NY business accelerator program show a great deal of promise. Whatever the results may be, I am excited to welcome them to Central New York and offer my support for them as they look to innovate within our thriving UAS industry."
Onondaga County Executive, J. Ryan McMahon said, "As we continue our focused work to grow and diversify our local economy, we are incredibly excited to welcome these teams to our community. The GENIUS NY competition is serving as a platform to showcase why Central New York is an exceptional place to grow a business. I wish these innovators the best of luck and we are ready to provide them with any support that they may need."
City of Syracuse Mayor Ben Walsh said, "The GENIUS NY competition attracts UAS startups from around the world to Syracuse. When I look at the list of finalists vying for the $1 million grand prize this year from Europe to right here in Central New York, I continue to be reminded that the ripple effects of this opportunity could be on a global scale for Syracuse and all of New York State. I look forward to seeing how these innovative companies set the bar even higher in the UAS industry and I applaud Empire State Development, the CNY Rising Upstate Revitalization Initiative, CenterState CEO, and The Tech Garden for growing this program in the heart of New York State."
Central New York Regional Economic Development Council Co-Chairs Randy Wolken, President & CEO of the Manufacturers Association of Central New York (MACNY), and Deborah Stanley, President of the State University of New York at Oswego said, "Congratulations to the teams selected to take part in round five of the GENIUS NY competition. We are proud to welcome these imaginative entrepreneurs to the region as they work to grow their innovative ideas. Through the regional council's continued support for the GENIUS NY competition, we are ensuring that New York state remains at the forefront of the growing UAS industry in Central New York, creating new opportunities and jobs for residents in the region for generations to come."