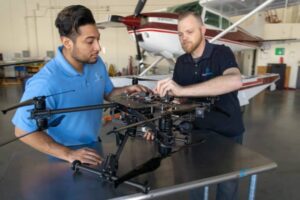 Robotic Skies has opened a new headquarters facility in Salt Lake City, Utah that centralizes company operations and advances its service capabilities. Providing onboarding, training, and logistics support for the company's partners, the new location will also act as a testbed environment to optimize new drone maintenance solutions that will be deployed through the Robotic Skies Service Center network.
Robotic Skies provides maintenance, inspection, and repair services for commercial drones through its network of over 225 quality-controlled Service Centers across 50 countries. The company's proprietary methods combine expertise in both traditional and next-generation aircraft maintenance to provide comprehensive turnkey field service programs for UAS fleets worldwide.
According to the FAA, hundreds of thousands of professional-grade commercial drones are expected to be in operation by 2025. Tapping into the existing manned aviation maintenance infrastructure will accelerates industry readiness for the support needs of fleets of such sizes. Robotic Skies claims to be the only organization addressing this at a global level.
Brad Hayden, Founder and CEO of Robotic Skies, commented: "We're excited about the expanded capacity our new facility provides to grow our service offerings with logistics, assembly, and depot-based fleet maintenance for UAS. It is also our primary venue to host in-person workshops and live remote training and support for our OEM and Service Center network partners."
"We work with our marketplace partners to standardize factory-approved training and documentation on how to assemble, inspect, maintain, and repair professional-grade UAS. Establishing this centralized onboarding facility is key to our strategy for consistently replicating these processes throughout our global service network and providing a safe and reliable customer experience."
"Robotic Skies is building a unique and vital global maintenance ecosystem that supports the safe integration of these next-generation aircraft into our daily lives. We recognize risk mitigation is more critical than ever to meet safety and performance standards, and we're meeting that head-on with a path to turnkey maintenance solutions that support UAS airworthiness criteria."
Mr. Hayden advocates for the safe integration of next-generation aircraft into existing global flight operations through various industry efforts, and has received an appointment to a seat on the FAA's Drone Advisory Committee. He also Chairs the National Business Aviation Association's Emerging Technology Committee and the ASTM Subcommittee F46.06 on Autonomous and Electric Aircraft Maintenance Personnel.