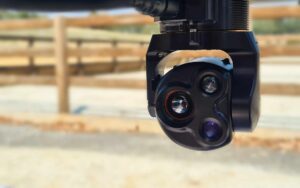 AVT Australia has successfully demonstrated its CM62 micro gimbal for small unmanned aerial systems (sUAS) to key personnel in the Defence Science & Technology Group (DST), Defence Innovation Hub (DIH), and the Australian Defence Force (ADF). The miniature multi-sensor imaging system is designed to enhance intelligence, surveillance and reconnaissance (ISR) and target acquisition capabilities for drone operations.
A series of flight, laboratory, and environmental demonstrations were conducted in order to showcase the capabilities of the CM62. These included demonstrations of the gimbal's Electro-Optical (EO) ultra-zoom, long-wave infrared (LWIR) imagery, as well as a range of onboard smart features.
The CM62 incorporates HD long-range EO imagery and a custom LWIR core in a low-SWaP (size, weight and power) unit that weighs just 260 grams. Featuring improved stabilisation, it provides UAS payload operators with accurate day and night target detection and identification, enhancing situational awareness in the field.
AVT Australia will showcase the CM62 Micro Gimbal at this year's Land Forces tradeshow in Brisbane from 1-3 June.
Philipp Senn, AVT Australia's Chief Technology Officer, commented: "AVT Australia has set the industry standard for miniature gyro-stabilised imaging systems for ISR and target acquisition operations. The capabilities of the CM62 Micro Gimbal have never before been achieved in a system of its size, weight and power. We are proud to develop world-leading capabilities here in Australia."