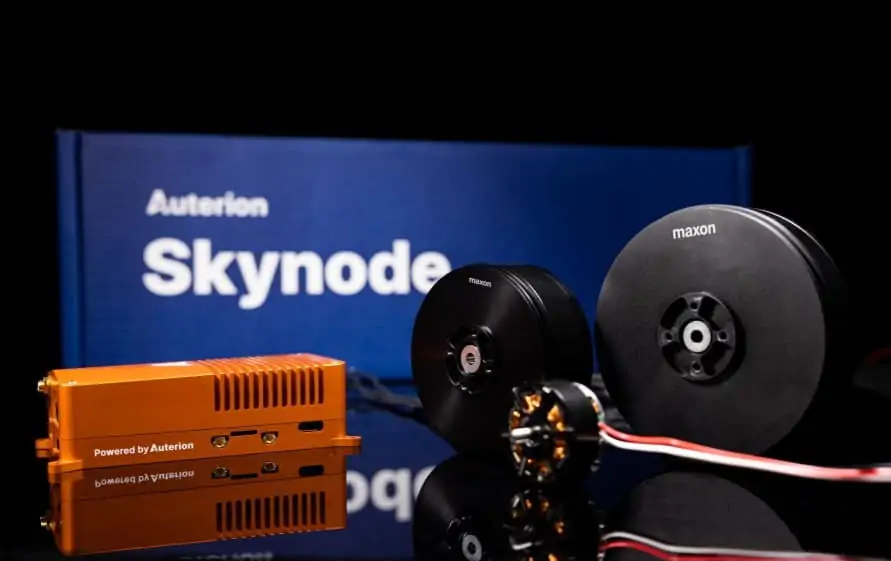 Auterion has entered into a partnership with maxon, a drive and motor specialist whose precision products have been used in the autonomous helicopter Ingenuity and rover Perseverance that are currently exploring Mars.
The two companies will provide enterprise drone solutions that take advantage of an advanced integrated open ecosystem of avionics and motors, including Auterion's Skynode module and maxon's BLDC UAV motors, with a level of standardization that will enable enterprise scaling and smooth workflow management. The open ecosystem integrations will support component upgrades and mixed portfolios of small, medium and heavy-lift drones, carrying a wide variety of specialized payloads or cargo.
The two companies will deliver maximum energy efficiency, flexibility, safety and performance to customers by pursuing an optimal systems interplay between maxon's high-precision motors, electronic speed controllers (ESC) and matching propellers — connected to the complete Auterion platform. The partners will also explore long-term opportunities around propulsion systems and autopilot communication, data sharing and real-time monitoring.
Auterion and maxon's goals include the leveraging of the companies' know-how to make drone operation, development and fleet management easy for customers at dramatically reduced costs, as well as the creation of a strong partner network that will advance state-of-the-art drone technology to solve customer problems.
Kevin Sartori, co-founder of Auterion, commented: "The partnership between Auterion and maxon provides access to the very best drone technology that also addresses impending federal legislation in the United States. We're seeing utility companies and others that specifically require drone service providers to offer systems compliant with regulatory executive action. Ultimately, our open-source, software-defined ecosystem built with outstanding partners like maxon is what will instill greater trust in drone components and autonomous technologies."
Eugen Elmiger, CEO of maxon Group, said: "With our motors in NASA's Ingenuity helicopter, we flew on Mars. Now we are focusing on drones on Earth, which will play an important role in the automated future. I am very pleased that we are entering into a cooperation with Auterion, sharing our knowledge and experience so that we can better serve customers in the dynamic drone market. Their expertise in drone software coupled with our 60 years of experience as a global motor and drive specialist will generate promising solutions for the future."