Milanion, a leading designer and manufacturer of advanced autonomous land and marine platforms, has partnered with Unmanned Systems Technology ("UST") to demonstrate their expertise in this field. The 'Gold' profile highlights how their unmanned ground vehicle (UGV) and unmanned surface vessel (USV) solutions can be used to remove personnel from harm's way in hostile, dangerous or hard-to-reach areas, and exceed the high standards set for the planning and execution of operational missions.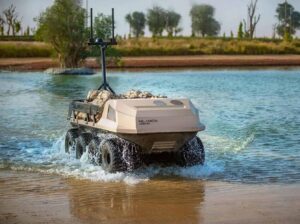 The AGEMA is a modular multi-mission UGV designed to support infantry and special forces units operating in both mounted and dismounted roles. With rugged construction and amphibious capabilities, it can operate in a variety of challenging off-road environments, including muddy swamps, river and streams, and dense jungle.
The versatile UGV can be programmed to follow other vehicles as part of a convoy, follow troops at a specified distance, or lead a group of soldiers as a reconnaissance and force projection capability. Able to conquer even the most extreme terrain, it is ideal for providing actionable intelligence and offensive capability while keeping personnel out of harm's way.
Available in 8×8 or 6×6 drivetrains, the AGEMA is simple to operate from a command vehicle or via a portable GCS, and features extremely low support and maintenance requirements.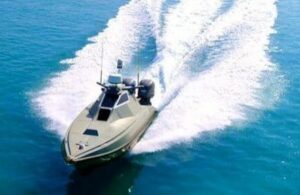 Milanion's autonomous conversion system allows users to realise the benefits of autonomous surface vessels and maximise the capabilities of existing fleets without the extra costs of purchasing dedicated boats and compatible parts. The marine autopilot and remote control systems allow for unmanned capabilities without sacrificing the manned usage of the vessel.
With Milanion's autonomous technology, almost any vessel can be converted into a USV. Users can remotely upload and manage mission plans and waypoints, and control throttle and steering as well as third party sensors and systems.
The conversion kit is payload-, sensor- and propulsion system-agnostic, allowing integration and remote control of a wide variety of capabilities such as EO/IR imaging, radar, sonar, weapons systems and towed decoys. System architecture can be customized to the user's exact mission requirements. Communication options include encrypted IP Mesh RF datalink, 4G LTE and backup SATCOM.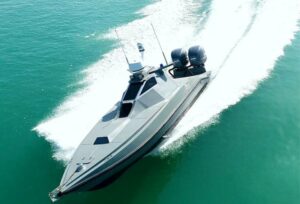 Milanion USVs can be equipped with a range of payloads to meet both commercial and military maritime requirements, providing effective force multipliers for maritime fleets and removing human operators from dull, dirty and dangerous environments.
Single vessels or fleets can be operated from one or more control stations on shore or on board a mothership, providing flexible deployment for missions such as ISR (intelligence, surveillance and reconnaissance), force projection, marine surveying and search and rescue.
With the resources to engineer sophisticated solutions with superior flexibility, scalability, and reliability, Milanion also provides bespoke solutions based on advanced autonomous conversion technology that are tailored to unique client specifications and local requirements.
Through the company's guiding principles of simplicity, speed and support, Milanion can respond, execute, and adjust at speed; to develop and deliver robust world-class solutions, at much decreased costs, within budget and on time to meet changing customer needs.
To find out more about Milanion and their advanced USV and UGV solutions, please visit their profile page:
https://www.unmannedsystemstechnology.com/company/milanion-group/