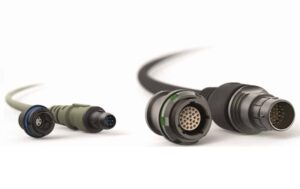 Fischer Connectors has extended its flagship series of ultra-rugged connectors for harsh environments with two new products. The Fischer UltiMate 80 is a field-ready, NATO STANAG 4695-compatible quick-release connector, and the new size 15 standard Fischer UltiMate connector features various pin layouts of up to 27 signal and power contacts.
The field-ready Fischer UltiMate 80 connector is intermateable with other NATO STANAG 4695 connectors, and is available with six or seven size 08 signal and power contacts for wire gauges up to AWG 22. Form factors include pre-cabled plug and pre-cabled and/or panel receptacle. The lightweight IP68-sealed connector is compliant with MIL-STD-810 and MIL-STD-202, and is ideal for challenging defense and security applications such as UAVs (unmanned aerial vehicles) and robotic systems.
Features of the Fischer UltiMate 80 include:
Ruggedness: high resistance to corrosion (500h salt mist), up to 10,000 mating cycles for the plug and 5,000 for the receptacle, random vibration 7.7 g, shock resistant (100 G), cable bending resistance (+/-45° for 5000 cycles), temperature (-55 °C to +135 °C), triple key coding
Light weight: aluminium housing and weight of just 2.7 g
Environmental sealing: IP68 sealing 2 minutes/24 hours (mated/unmated)
The new standard Fischer UltiMate connector in size 15 meets special power and high-speed data requirements for further design and technology developments with various contact layouts (2, 4, 8, 4+12 or 27 signal and power contacts).
The Fischer UltiMate Series is used to ruggedize technology for field operations in extreme environments. Environmentally sealed to resist extreme shocks and vibrations, these durable and reliable connectors are ideal to interconnect devices, equipment, hubs and embedded electronic systems where weight matters. The Fischer UltiMate connectors' resin-sealed contact block offers extreme sealing (up to IP68 / IP69 even unmated, gastight, CBRN decontamination), high shock and vibration resistance, as well as superior cable resistance in terms of traction.