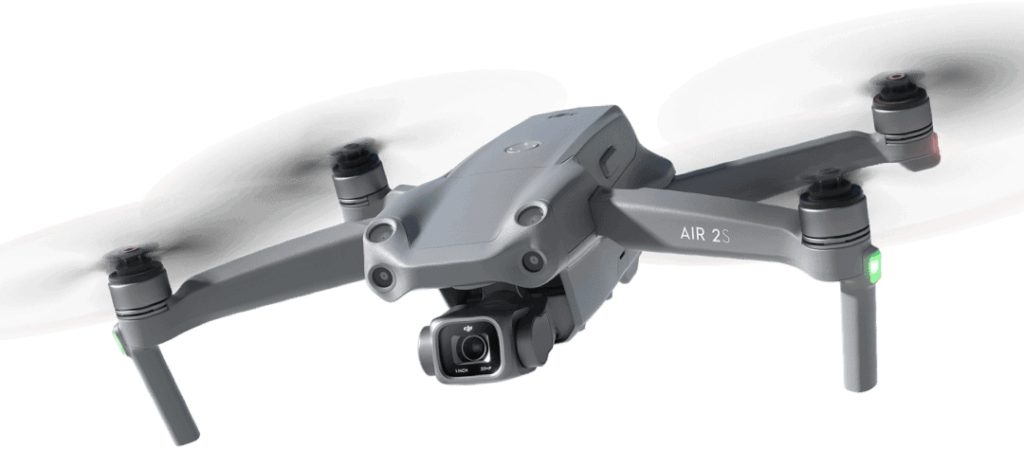 DJI has launched the Air 2S, a new portable camera drone that captures 20-megapixel still images and video in 5.4K using a new one-inch sensor that was previously available only on larger, less agile drones. The Air 2S also features a MasterShots mode that uses automatic flight path planning to set the drone's course while recording video, and upon completion of the flight automatically merges the footage under one theme.
With 31 minutes of maximum flight time and four-way directional obstacle sensors, the Air 2S allows the pilot to focus on the shot while the drone's safety systems warn when obstacles are within close proximity. The integrated APAS 4.0 is the most advanced autopilot system on any DJI drone and when turned on, seamlessly maneuvers around objects autonomously. O3, DJI's third iteration of OcuSync, provides reliable transmission technology for a highly stable connection. The upgraded FocusTrack mode includes a suite of programmed modes like Spotlight 2.0, ActiveTrack 4.0 and Point of Interest 3.0 that mimic the focus, control and movement of a professional video operator.
The new one-inch sensor is capable of recording 20-megapixel still images, 5.4K video at 30fps or 4K at 60fps and 150Mbps. The sensor is larger than the sensor on the original Mavic Air 2 and offers a larger pixel size of 2.4μm, capturing more information and detail for better photos and videos. A new digital zoom supports 4X zoom at 4K 30fps, 6X at 2.7K 30fps, 4X at 2.7K 60fps, 6X at 1080P 60fps and 8X at 1080P 30fps.
In addition to standard photo options like Timed Photo, AEB and Panoramas, the Air 2S features a SmartPhoto mode that records 20-megapixel photos using advanced scene analysis and deep learning to automatically choose the best of three options – HDR, Hyperlight and Scene Recognition – that will create the most visually appealing image. HDR modes merge several images together for a vibrant scene, while Hyperlight is designed for low-light scenarios, and Scene Recognition can identify several common settings and apply camera adjustments.
As with all of DJI's latest drone models, the Air 2S's AirSense system warns drone pilots of nearby airplanes and helicopters transmitting ADS-B signals, so the drone can be quickly moved to a safer location. Other standard safety features include an improved Return-To-Home (RTH) feature, which can bring a drone back to its launch point if it loses contact with the controller or reaches a critically low battery level, and the GEO 2.0 geofencing system that advises pilots of sensitive locations and helps them automatically keep away from high-risk areas such as airports.
Ferdinand Wolf, Creative Director at DJI Europe, commented: "Every creator remembers what it felt like to fly a drone for the first time, and they'll feel the same sense of wonder and possibility when they first experience DJI Air 2S's unparalleled mix of astonishing flight capability and gripping image quality. DJI Air 2S is a wish list come to life for everyone who demands more from a drone, showcasing upgrades that truly elevate the system into a highly versatile drone. From content creators, to drone enthusiasts and travelers, we are confident that a lot of people will be excited about this drone."