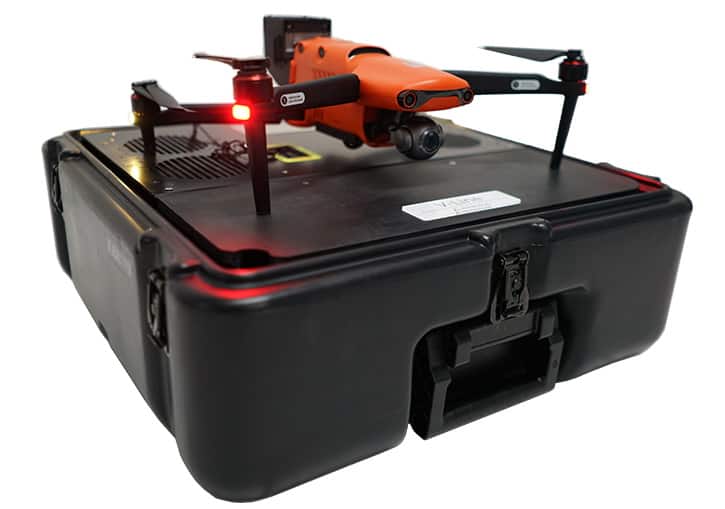 Volarious has updated its V-LINE range of tethered drone stations with support for the DJI Autel Evo 2 series and the new Mavic 2 Enterprise Advanced. The company has also launched a new app for the Mavic 2 series that provides control of the drone, viewing of tethered station data, and precision takeoff and landing with up to 1cm accuracy for push-button operations without the need to use control sticks.
V-LINE's compatibility with commercial off-the-shelf drones enables fleet owners to quickly reap the benefits of tethering their existing drones with minimal investment. The new version of V-LINE retains its compact size and built-in batteries, and the smart tension system has been upgraded to be five times more responsive than the first version, allowing it to handle wind better.
The V-Line app allows Mavic 2 users to take off, monitor and land all with a click of a button. The autonomous takeoff and landing capability enables the drone to accurately land on the V-LINE launchpad, which measures 40cm X 40cm.
Use cases that can benefit from the ability to safely and securely hover in the air for extended periods of time include maritime and offshore drone operations, public safety operations requiring quick deployment and elevated situational awareness, and operations at night with thermal sensors.
Weiliang Zhang, CEO of Volarious, commented: "The goal of V-LINE is to make continuous drone flights as easy and accessible as possible. With the new autonomous features, operators can focus on the mission and less on operating the drone. We are excited particularly about the Mavic 2 Enterprise's advanced thermal capabilities, which are comparable to many larger drones."
"With the new generation of small drones entering into service, we are confident that operators will find V-LINE a useful add on which will enable more drone use cases."