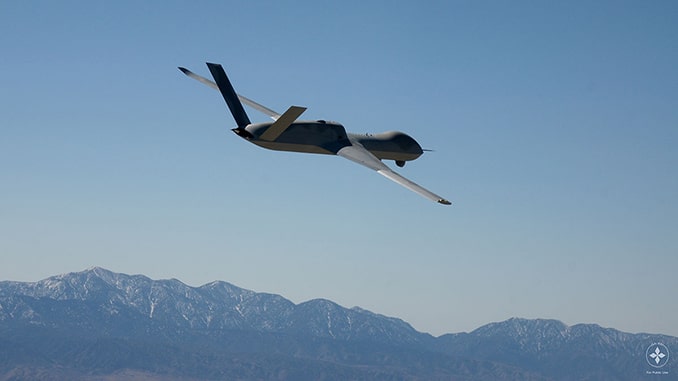 General Atomics Aeronautical Systems, Inc. (GA‑ASI) has been awarded an Experimental Certificate (EC) by the FAA for its Avenger ER (Extended Range) UAS (unmanned aerial system). The certificate enables the unmanned aircraft to perform expanded operations in the U.S. National Airspace System, and GA-ASI plans to begin flight testing with the Avenger ER for multiple contracted and Internal Research & Development (IRAD) projects.
The jet-powered aircraft is designed to perform high-speed, long-endurance missions over land or sea, with avionics based upon the battle-proven Predator B/MQ-9 Reaper platform. With a 44-foot long fuselage and a 76-foot wingspan, it can carry a payload of more than 4,000 pounds, fly at over 400 KTAS, and stay in the air for more than 20 hours.
Avenger ER supports a wide array of sensors and weapons loads and has been designed to carry an all-weather GA-ASI Lynx Multi-mode Radar, an Electro-optical/Infrared (EO/IR) sensor, Infrared Search and Track System (IRST) and a 2,000-pound Joint Direct Attack Munition (JDAM), delivering an optimal balance of long loiter ISR (intelligence, surveillance and reconnaissance) and precision strike capability.
GA-ASI's fleet of Avenger aircraft has recently surpassed the 30,000 flight hour milestone, with the UAVs being engaged in a variety of projects including the U.S. Air Force's Skyborg Vanguard Program, which is pushing the boundaries in teaming autonomous systems with human-crewed platforms.
Pete Latta, GA-ASI's Senior Director of Quick Action Programs, commented: "Since 2005, GA-ASI has worked closely with the FAA to affirm the special airworthiness certification of RPAs, promoting their integration into the National Airspace System. This EC will also help GA-ASI employ the latest configuration of the Avenger ER for customer payload testing and company investments in advanced UAS control technologies."