GENIUS NY the world's largest accelerator competition for unmanned technology start-ups is now accepting entries for its 5th year.
Five finalists will be selected for the 2021 program, with the winner receiving the $1 million top prize and the remaining finalists splitting a total of $2 million in cash. Companies selected as finalists spend a year at a Syracuse-based startup incubator where they have office space and amenities plus workshops, training, mentoring and opportunities for networking.
GENIUS NY is looking for companies who are focused on unmanned systems, IoT, big data and robotics. Applications are open until March 31, 2021.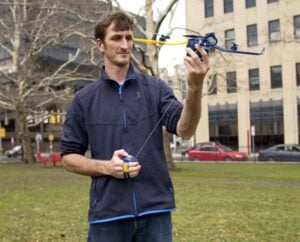 Winners so far include Fotokite, of Switzerland, who won in 2018. Fotokite Technology uses a tether combined with an onboard IMU to compute the drone's position relative to the user. This allows for quick deployment and controlled flight by virtually anyone and obviates the need for complex start-up protocols, GPS dependency, trained pilots, and bulky remote controls. Fotokite has recently partnered with firefighting firm Pierce Manufacturing to launch its system that can be integrated with public-safety vehicles as well as other firefighting equipment.
"Bringing Fotokite to the U.S. has always been important for the success of our startup," said Chris McCall, CEO of Fotokite. "GENIUS NY has accelerated this process for us even more than we could have expected, resulting in game-changing speed of growth, incredible local and national network connections, and highly curated business advice to help prepare and scale up operations."
September 2020 saw Geopipe, a team from New York City, win the $1 million prize. The startup is developing algorithmic tools to model expansive virtual worlds for architecture, real estate, urban planning, and beyond.
Since 2017, GENIUS NY has invested over $12 million in 22 early-stage companies from around the world and has helped more than a dozen companies scale their operations and make the necessary connections to secure partners, customers and follow-on funding.
To apply and see program requirements visit: www.geniusny.com/applyThe entry deadline for the upcoming accelerator is March 31.
The program is funded by Empire State Development and administered at CenterState CEO's Tech Garden incubator in Syracuse, New York.