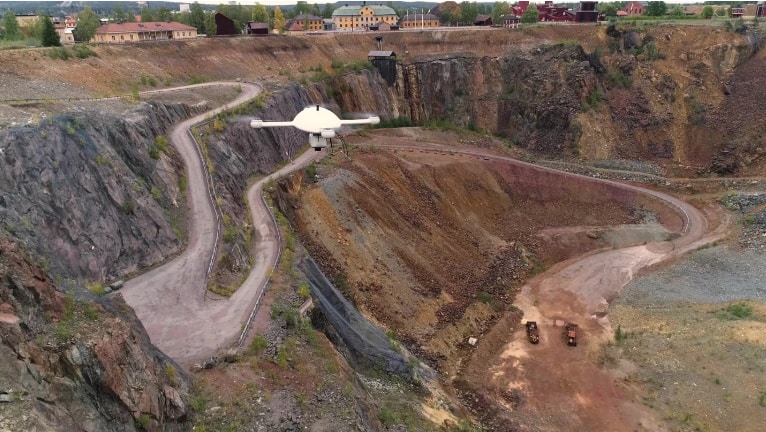 Microdrones has created three new episodes of its "Down to Earth" reality series, which focuses on the challenges and hazards faced by real UAV (unmanned aerial vehicle) surveying crews, as well as how they create real data deliverables. The new episodes are due to premiere on Wednesday, February 17, and viewers can register to watch at either 9am ET or 6pm ET.
Register here to watch the next three episodes of the series, which include exclusive behind-the-scenes mission planning, data capture and analysis of the final deliverables narrated by the professionals involved in the project
The next 3 episodes of "Down to Earth", titled "The Great Pit", follow engineering and surveying firm SWECO as they attempt to survey and map the historic Falun Mine in Sweden, once the world's largest copper producer, to identify movement or settlements that could lead to a collapse.
The first episode introduces the Sweco surveying team, both named Johan Larsson but unrelated, along with Rikard Svall, chief survey specialist for 5D Teknik, the distribution partner for Microdrones in Sweden, who provided additional support during the mission. Episodes 2 and 3 follow the Sweco team into the depths of the Great Pit and back to their office to view the data and to find out if the mission succeeded.
Johan Larsson commented: "The Falun Mine has become a popular tourist attraction. Our client wants to identify possible danger zones so they can take action to keep people safe. However, there are parts of this mine that are very difficult and dangerous to reach for a land surveyor. Using the Microdrones mdLiDAR3000DL aaS, we can get highly accurate point clouds in dangerous areas and we're able to collect data we couldn't get to before."
Rikard Svall said: "At this open pit mine, it's almost impossible to complete this survey using traditional methods. It's very dangerous to be inside the actual pit or next to the pit. No one wants to expose their staff to hazardous conditions like cave-ins or ground collapses. This is a perfect mission to utilize drone surveying equipment from Microdrones."
Mirjam Bäumer, Microdrones Marketing Director, stated: "It was exciting to bring our Down to Earth Series to Europe and work alongside both our distributor and customer. The mission at the Falun Mine exemplifies why drone surveying equipment can keep surveyors safe and get the job done much more efficiently. Plus, I think the episodes make for great viewing. It's a beautiful Swedish landmark that poses challenges and safety hazards for our customer. All the perfect ingredients to make a dramatic reality surveying series."