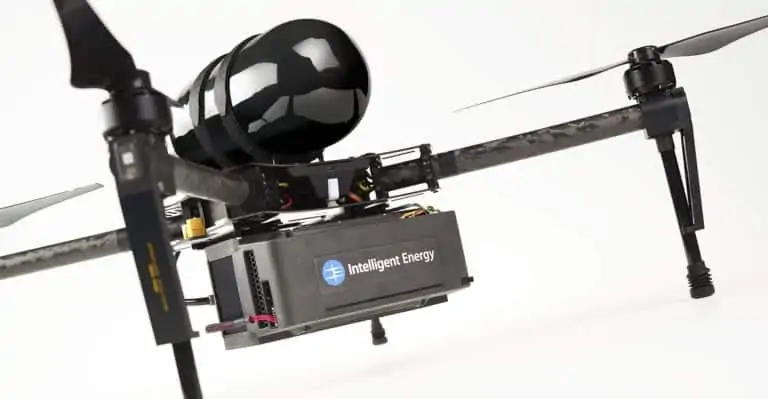 Intelligent Energy has launched a new addition to its range of hydrogen fuel cell modules and accessories for unmanned aerial vehicles (UAVs). The Pressure Tech CV414 is a high-pressure EU TPED (Transportable Pressure Equipment Directive) and United States DoT (Department of Transport)-rated valve that allows users to transport full cylinders of hydrogen for powering drones.
Without a rated product such as this new valve, the transportation of full UAV-compatible hydrogen cylinders is not permitted, impacting the time and cost required to complete a mission with hydrogen-powered drones. The Pressure Tech CV414 facilitates a wide range of applications and will allow service providers to realise the full potential of using fuel cell technology to power their UAV fleets.
Following the development and release of the new valve, Intelligent Energy is now looking at how it can further support customers by ensuring they have easy access to full hydrogen cylinders.
Intelligent Energy is the developer of the IE-Soar fuel cell modules, which the company claims are the lightest and most power-dense available in the UAV industry, with three times the flight duration compared to batteries. The modules' lightweight design allows them to power larger UAVs carrying heavier payloads.
Andy Kelly, Head of UAV Product Development at Intelligent Energy, commented: "This high-pressure valve has been developed by Pressure Tech specifically to requirements set out by Intelligent Energy and its customers. We were keen to address issues hindering the wider adoption of fuel cell power for UAVs."
"We know our fuel cells are the ideal choice for UAV operators requiring longer flight time. However, it is important that we support with the peripherals required to get operational. This valve is a key enabler and will make it simple for our customers to get their full cylinders where they need them and ready to use."
"Now full UAV compatible cylinders can be transported; the next logical step is to get them delivered directly to our customers. We want it to be as straightforward as ordering barbecue gas and getting empty cylinders collected."