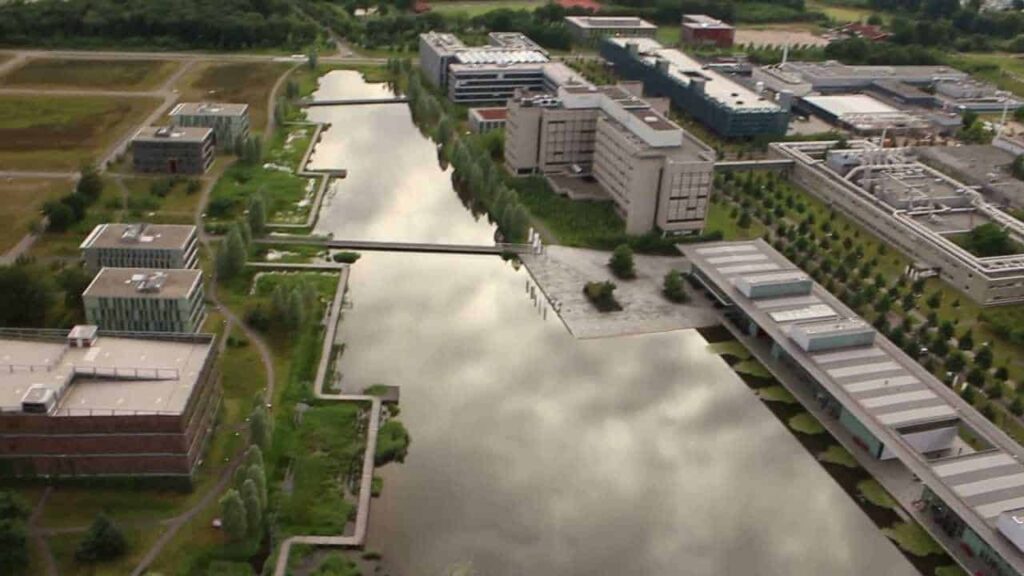 The High Tech Campus Eindhoven (HTCE) technology park has begun construction of new onsite digital infrastructure for advanced autonomous aviation that will help advance the research and development of Urban Air Mobility (UAM) in a safe, secure and regulated way. HTCE has selected urban digital technology developer Serendipity to handle the technical coordination for this new field lab.
The field lab is being developed as part of the Flying Forward 2020 (FF2020) consortium and ecosystem, a three-year collaborative innovation and research project recently funded by the European Commission. After completion of this new site at HTCE, the UAM infrastructure will be tested at four other field labs across the EU, namely the University of Oulu in Finland, Tartu Science Park in Estonia, Ospedale San Raffaele Milan in Italy and the City of Zaragoza in Spain.
The international FF2020 consortium consists of public and private organizations, universities, and international multi-disciplinary teams of experts, such as Digie, EUROUSC Italia, Nalantis, Serendipity, University of Maastricht and VERSES. FF2020 is supported by several large institutions including the European Space Agency (ESA), NXP, VDL, Microsoft and Nokia and LUMO labs.
Jan-Willem Neggers, HTCE Managing Director, commented: "With the rise of drone use, flying taxis and autonomous last-mile delivery, we need to prepare ourselves for the future. When we were approached by LUMO Labs and Serendipity to participate in this project, we saw the possibilities for us as a campus to realize our ambitions. Our innovative campus, with all the tech-savvy people working here, is the perfect location to develop, test and roll out this project."
"Of course, we would like to know whose drone is flying – from where, to where, on what path and altitude – just like with planes, only closer to the ground. And for exactly this reason, we'd better make it safe, transparent, traceable and well-regulated. I have worked with Jonas of Serendipity over the last year as we prepared for the call. He is the right person to guide us in this new era."
Jonas Onland, Managing Partner at Serendipity, stated: "We are honored and excited that we were able to build the UAM ecosystem with the best partners in the world to create the digital infrastructure of the future."
Andy Lürling, Founding Partner of LUMO Labs, said: "Many of these technologies come from start-ups & scale-ups. The field labs will also be ideal test labs for some of our portfolio companies. We see Serendipity as the curator between start-ups and the multinationals."