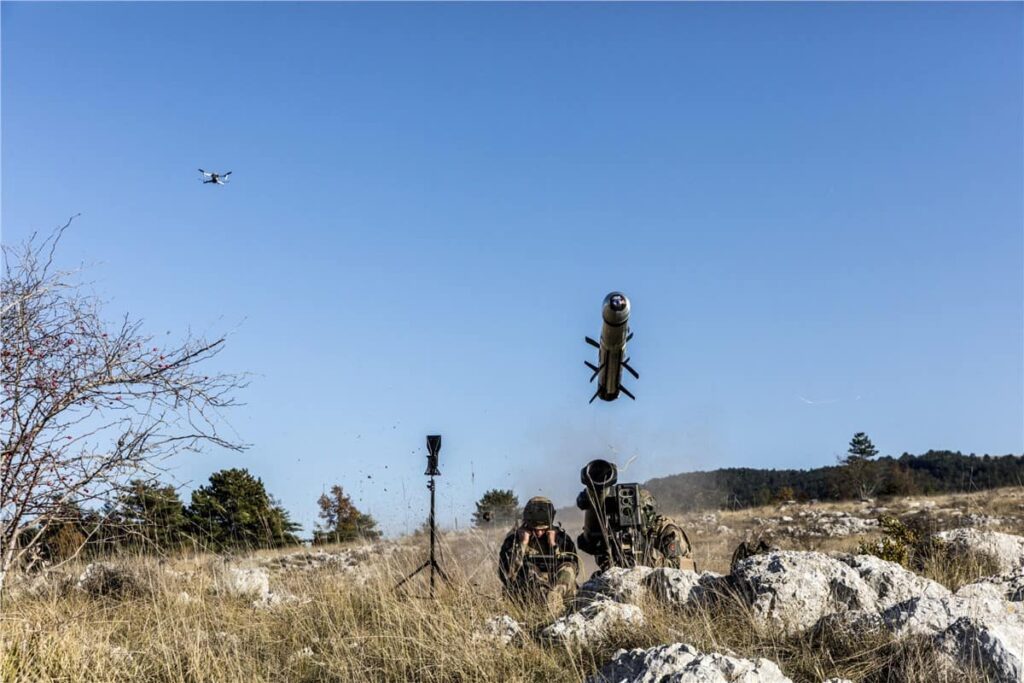 MBDA has successfully performed the first demonstration of its LynkEUs Dismounted system, which pairs an MMP anti-tank missile system in infantry configuration with a Novadem NX70 drone that is linked via radio to the missile system. The drone can be used to detect and identify remote targets and supply co-ordinates for the missile.
The demonstration was carried out with the support of the French Army and of the Direction Générale de l'Armement (DGA – French Procurement Agency) at the Canjuers military camp in the south of France. The drone, operating beyond visual line of sight (BVLOS), enabled the detection and identification of a tank and communicated its coordinates to the MMP firing station, thus demonstrating the ability to engage a target not directly seen by the operator.
The missile was locked on to the target during its flight by the MMP operator, after detecting the tank via the video stream from the MMP seeker, which was continuously transmitting to the firing station via fibre optics. The demonstration successfully concluded with a direct hit on the target.
Philippe Gouyon, Military Advisor at MBDA, commented: "This firing also concludes a year-long tactical evaluation conducted with the Army and Novadem exploring all the capabilities of the system and thus, allows MBDA to propose an MMP / drone combination that meets the needs of remote observation and target designation of contact units."
"These experiments notably included real-time engagement simulations in virtual reality but also combining, in the field, real equipment (drones and weapon terminal) and MMP simulators implemented by Land Forces units. We are very satisfied with the results of this work, which made it possible to understand the forces' needs to finalize the system carrying the BLOS capability for dismounted combat."
Find manufacturers of BVLOS Technology for Unmanned Systems >>