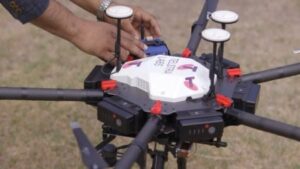 Thales and Telstra have jointly developed a prototype of a system designed to safely integrate manned and unmanned aircraft operations, known as LAAM (Low Altitude Airspace Management). The system, which dynamically manages airspace and automates drone flight approvals, has been tested in and around the city of Geelong, Australia.
Geelong is developing itself as a "smart city", utilising communication technology solutions such as drones to enhance the life of its residents. In the future, multiple drone platforms may have to seamlessly operate together and co-exist with manned aircraft. A UAV (unmanned aerial vehicle) traffic management system will improve regulation, accountability and transparency of drone flights while mitigating privacy violations by ensuring pre-approvals for all flights including flight path, pilot and purpose.
The LAAM system is based around Thales UAS Airspace Management solution, which is currently operational in the USA to provide drone management services for the New York State Corridor, which has been accredited by the FAA under the LAANC (Low Altitude Authorization and Notification Capability) initiative. It will also soon be deployed in North Dakota to support safe airspace integration of UAVs. In Europe, it is currently managing the airspace for drones over two major cities: Rennes and Lille.
Over a 6-month period, the Geelong Low Altitude Airspace Management (GLAAM) Initiative demonstrated that drone operations can be conducted safely in a semi-urban environment and can be used to support the development of Smart City concepts in Australia.
Chris Jenkins, CEO of Thales Australia, said that this project has shown that the creation of a seamless sky is possible, where manned and unmanned traffic is safely integrated in the smart cities of the future. "This trial has proved that the technology is there to support drone users perform their missions in an orderly, safe and timely manner, helping to safely unlock their full benefit."
Telstra's Group Owner, Incubation and Excellence, Gianpaolo Carraro, commented: "We're looking to solve aerial connectivity at lower altitudes than regular aviation, such as command and control and airspace awareness. Our ambition is to be an integral player for the industry, supporting safer & secure low altitude airspace equality. Today's announcement with Greater City of Geelong and Thales reinforces our fast, safe, and secure 4G, 5G, and IoT networks as well as our advanced LANES technology to make this ambition a reality."