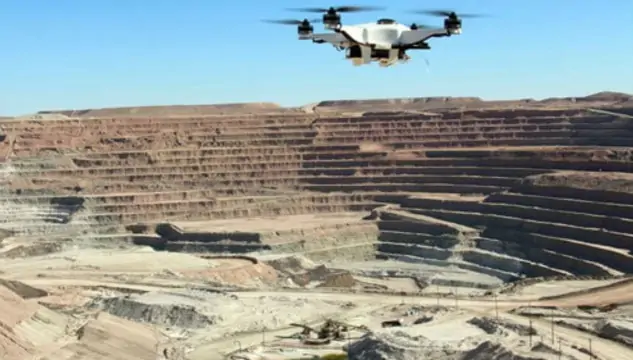 Iris Automation has released the following article outlining the adoption of UAS (unmanned aerial systems) technology by the mining industry. The company's Casia detect-and-avoid system enables Beyond Visual Line of Sight (BVLOS) operation for industrial UAVs, unlocking safer and more efficient extended-range flight.
Mining is an incredibly dangerous industry, which helps explain its ready adoption of UAS technology in recent years, particularly across the regions of Australasia and Africa, according to GlobalData's survey of more than 200 mine sites. Combined with photogrammetry software for surveying and mapping, drones are able to deliver advanced, comprehensive, and real-time data.
Beyond vastly improving the safety of mining operations, drones can be used to collect data  more efficiently and accurately, and according to Global Data's survey, replacing manned aircraft with a drone and drone pilot for  can save around 90% of the cost per hour. Other benefits include:
Surveys are easily repeatable
Improves worker and site-safety management
Reduces variance in stockpile volume calculations
Reduces the need for costly manned aircraft and highly skilled personnel
Unlimited aerial data that can be collected allows engineers to focus on analysis and interpretation
Use cases for drone technology in mining operations include:
Mining surveys
A UAV equipped with a downward-facing RGB camera takes images of an open-pit mine or quarry from different points. Photogrammetry software uses these images to create geo-referenced 3D maps, contour lines, digital terrain models, or digital surface models of the site.
Aerial photogrammetry is the making of measurements and mapping 3D coordinates through images containing geospatial information. Photogrammetry can create topographic maps with the three-dimensional shape and features of a mining site, and can also produce digital terrain models, and planimetric feature maps. This means highly realistic 3D models that can be used for virtual walkthroughs and information to assess visual changes to a site over time. Additional maps and images that this software can create include orthophotos, point clouds, and 3D textured mesh.
Stockpile Management
Typically, large piles of aggregate matter form a cone shape, which is difficult to estimate the volume of on the ground, so manned aircraft traditionally fly over these piles to take painstaking measurements. Drones using cutting edge software can now identify measurements, make calculations, and generate aerial terrain models with little effort and without highly trained staff. Frequent calculations are now cost-effective and help minimize waste.
Quarry management and operation planning
The aerial drone images can also be used to produce an accurate site model, allowing site operations to be more efficiently and safely designed and managed by better assessing the volume of material to be extracted or moved, and by optimizing haul roads to cut fuel costs and ensure they meet legal standards.
Drilling and blasting
Surveys can create 3D reconstructions and surface models for areas to be blasted or drilled. After blasting, thermal imaging and photometry are used to make sure there have been no potentially hazardous shifts in material. Comparisons between surveys taken before and after blasting allow more accurate calculations of volumes to improve planning for future blasts and cut the cost of explosives, time on site, and drilling.
Tailings dams
Tailings dams are earthen embankment dams which store potentially hazardous chemical byproducts of the mining process. Drones are able to provide constant surveillance of tailings dams to ensure their integrity and prevent any environmentally damaging spillage or runoff.
Security
Continuously flying drones are able to secure perimeters and protect equipment, detecting unusual activity and alerting personnel. The aerial perspective is also valuable when coordinating emergency response efforts that may be needed, by safely navigating response vehicles through the mining site.
Underground and abandoned mines
Underground mines are one of the most dangerous aspects of the mining industry and therefore have numerous applications for drones to improve safety, including surface roughness mapping, stability analysis, ventilation modeling, and hazardous gas and leakage detection. However, the same reasons they are dangerous to humans make them difficult to operate drones in, such as confined space, reduced visibility, dust, and obstacles that obstruct wireless signal propagation, making their use limited for now.
There are tens of thousands of abandoned mines in the United States alone, and drones can perform monitoring of them for flooding, gas emissions and buildup, and other potential hazardous conditions more efficiently and safely than traditional measures.