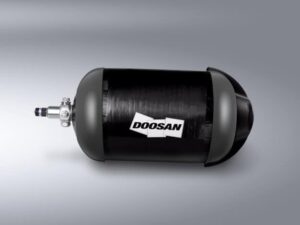 Doosan Mobility Innovation's (DMI) unmanned aerial vehicle (UAV) hydrogen cylinder tank has received approval from the United States Department of Transportation (DoT), making the company one of the first to achieve this milestone. DMI has developed a fuel cell-powered drone solution with a long endurance flight time of over two hours, designed for applications such as inspection, search and rescue, mining and construction, agriculture, logistics, and aid delivery.
The authorization also marks the third official certification for DMI, having previously received approval from Korean Gas Safety (KGS) and the European Transportable Pressure Equipment Directive (TPED). The company is also currently in the process of obtaining approval from Standards Australia.
Following this approval, DMI can now establish a nationwide hydrogen distribution network in the U.S. for its fuel cell-powered drones. The company has partnered with ReadyH2, a specialist in compressed hydrogen gas distribution networks and a premier partner for DMI customers and dealers.
DMI has also partnered with ILJIN Composites to manufacture the hydrogen cylinders. ILJIN is a developer of high-tech composite material products and provides Hyundai Motors with hydrogen cylinders created with the same technology and safety measures as DMI's hydrogen cylinder. All cylinders have passed numerous safety tests conducted by an authorized testing agency. These tests include but are not limited to pressurized tests, fire tests and even gunshot penetrations tests.
Doosoon Lee, CEO of Doosan Mobility Innovation, commented: "This will be one of the most significant milestones that can unlock the door for hydrogen mobility industries, since it enables hydrogen fueled products like DMI's drones to be widely used in the world."
Brendon Mills, CEO of ReadyH2, said: "We are thrilled for DMI and are ready to roll out the next phase of our hydrogen gas distribution network."