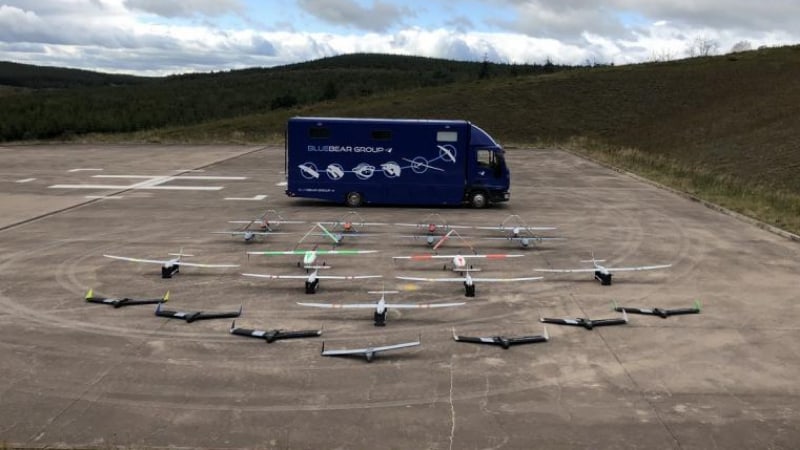 Blue Bear has successfully demonstrated its new remote launch technology for multiple UAS (unmanned aerial vehicles), which allows operators anywhere in the world to command a fleet of VTOL fixed-wing drones to simultaneously take off and transition into individual or cooperative swarming missions.
Seven of Blue Bear's fully autonomous Ghost UAS were used for the demonstration. The open-architecture Ghost platform comes with either a standard fixed-fuselage configuration or a plug-and-play modular fuselage bay, and features Blue Bear's latest generation of avionics and SmartConnect technology. A wide variety of payloads are available for the Ghost, designed by members of a growing ecosystem of developers working with Blue Bear.
Following the successful demonstration, the modular payload bay is now being adapted for medical delivery applications. The remote launch functionality will help realise the vision of fully autonomous drone delivery and centralised command and control.
Ian Williams-Wynn, Managing Director at Blue Bear, commented: "Blue Bear can now retrofit its SmartConnect, open architectures, autopilots and other avionics to third party UAS, UGVs, USVs and UxVs to enable them to utilise the growing ecosystem of plug and play payloads, commanded by Blue Bear Centurion Command and Control software. This provides platform suppliers from air, land and maritime domains with the ability to plug their systems into any Blue Bear Centurion equipped system, providing the operator with a single command and control platform for all their multi-domain unmanned assets."
Find manufacturers of Fixed Wing UAVs >>
Watch a video of the demonstration below: