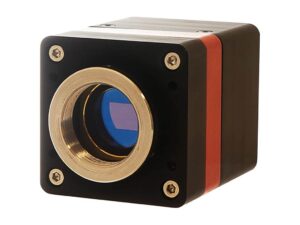 Raptor Photonics has launched the Owl 640 N VIS-SWIR (visible and shortwave infrared) OEM camera, featuring passive digital night vision capabilities. The state-of-the-art compact camera is based around a 640 x 512 InGaAs imaging sensor with 15μm square pixel pitch, providing visible SWIR wavelength coverage of 600-1700nm, and is ideal for small unmanned aerial systems (UAS) and unmanned vehicle EO (electro-optical) gimbals.
The SWaP (size, weight and power)-optimised camera has a power draw of less than 4W, and an ultra-low readout noise of less than 18 electrons. The system includes temperature stabilization, onboard Automated Gain Control (AGC) and intelligent 3-point Non-Uniform Correction (NUC) for superior imaging quality.
To find out more information on the Owl 640 N VIS-SWIR camera specifications, download the data sheet here.