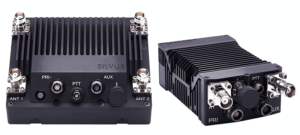 Silvus Technologies has developed a new waveform for its StreamCaster tactical radios that provides enhanced LPI/LPD (Low Probability of Intercept/Low Probability of Detection) capabilities, as part of a research and development project initiated by the by the U.S. Army's C5ISR Center. The project is titled "Protected Communications for Manned/Unmanned Teams" (PCM) and intends to develop high-throughput, secure, and low observable communications capabilities for teaming of manned vehicles and unmanned systems such as UAVs (unmanned aerial vehicles).
Under the contract, Silvus is also integrating many of its recently developed capabilities to operate in conjunction with the PCM waveform's LPI/LPD functions. These include:
A MANET-Interference Avoidance (MAN-IA) module that enables tactical radios to shift their operating frequency when communications are degraded by interference
A MANET-Interference Cancellation (MAN-IC) module that enables tactical radios to spatially filter out interference
A MANET-Power Control (MAN-PC) module that allows the radios to control their transmit power to enable more discreet communications
Silvus Technologies is the creator of the Mobile Networked MIMO (MN-MIMO) waveform, a mobile ad-hoc networking (MANET) capability that leverages the latest advances in MIMO (multiple input multiple output) technology to improve throughput and robustness. This capability is the core of the company's StreamCaster radios, a family of MIMO-enabled tactical radios. Recently, StreamCaster was selected as the MANET radio solution for Phase 2 of the Next Generation Combat Vehicle Robotic Combat Vehicle (NGCV RCV) program.
The PCM project will culminate in a series of field demonstrations. Silvus will continue to mature the technology to rapidly bring these new capabilities to market.
Dr. Babak Daneshrad, Founder and CEO of Silvus Technologies, commented: "The result of this effort will be a robust waveform running on Silvus' StreamCaster radios that brings together a powerful suite of anti-jam and LPI/LPD functions to enable robust, secure communications for the warfighter in congested and contested environments."