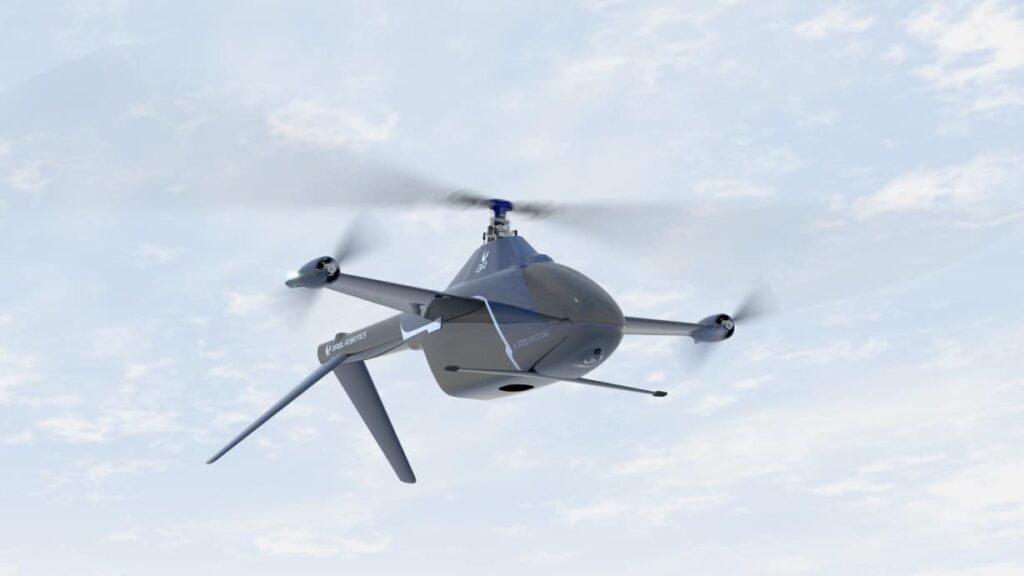 Airial Robotics has unveiled a new UAV (unmanned aerial vehicle) concept based on its Gyrotrak platform, a hybrid technology combining the autorotation principles of autogyros with the precision hovering of helicopters. Combining tried-and-tested aerodynamic principles with state-of-the-art aviation technologies, Gyrotrak offers improved flight time, payload capacity, range and efficiency, and features a modular system architecture that can be adapted to a wide range of commercial drone applications.
Gyrotrak's main rotor autorotation ensures that the platform uses very little energy and possesses great stability in forward flight, and can land safely even if the motor fails. The hybrid solution also features helicopter-like precision hovering, backwards flight, and vertical take-off and landing.
The versatile, modular structure allows Gyrotrak to be easily adapted to the varying requirements of different commercial markets, such as precision agriculture, cargo delivery of spare parts to offshore installations, high-accuracy inspection, and security. The scalable design allows the creation of different size and weight class models, with takeoff weights ranging from 4 to 300 kg.
The first product based on the new concept is the fully electric GT20 Gyrotrak UAV. The unmanned aircraft has a maximum take-off weight of 20 kg and is capable of performing both LOS (line of sight) and BVLOS (beyond visual line of sight) flights. The payload capacity of approximately 13 kg can be distributed between the battery and additional payloads, depending on mission requirements.
Jörg Schamuhn, co-founder and CEO of Airial Robotics, explained: "In design terms, Airial Robotics has struck out on a new path with Gyrotrak, one that differs markedly from the traditional multicopter and VTOL fixed-wing solutions. Our technology is a disruptive hybrid UAV solution, somewhere between helicopter and autogyro. The innovative combination of the advantages of both systems creates such a unique and special technical platform, that it leaves the current industry standards behind it, and makes Gyrotrak a real game changer. Gyrotrak gives us the ability to at least double important factors like flight time, range, and payload, when compared to traditional multicopter systems. Furthermore, long hovering flights and multiple take-offs and landings are not a problem, which isn't the case or possible with a lot of VTOL fixed-wing solutions."
"The key to success in Gyrotrak is also to be found in the perfectly seamless transitions between the helicopter and autogyro flight modes, which are automated by sophisticated software. Here, we rely on aviation standards not just in the software, but also in the hardware. The UAV was developed completely in Europe and is produced here too. Among other things, the autopilot we use is DO-178/ED-12 or DO-254 aviation certified."
"If the GT20 Gyrotrak is fitted with a professional camera weighing about 500 g, it can stay in the air for about 2.5 hours and cover up to 150 km at cruise speeds of 90 kph. As a result, it is a perfect tool for police and security service deployments as well as search and rescue, whilst at the same time being ideal for pipeline inspections or securing perimeters. Also, as the payload distribution can be adjusted to suit each individual logistics application, Gyrotrak GT20 can be configured to deliver somewhat heavier, time-critical shipments fast and safely to their destination."
András Voloscsuk, co-founder and CTO of Airial Robotics and inventor of the technical innovations, stated: "Our Gyrotrak platform is based on systematic intensive research and test work. We are pleased to be able to announce the first product today based on the new technology, which has the potential to change the life and work of many people positively."