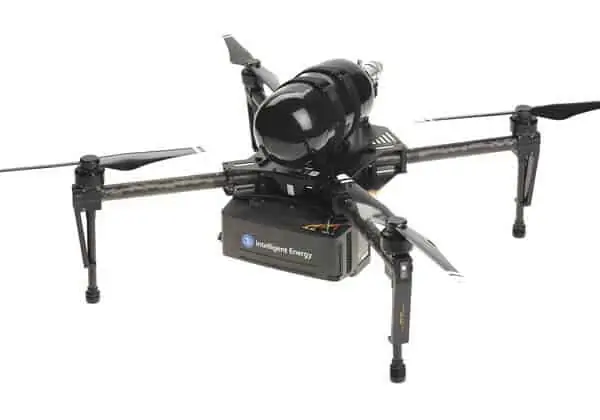 Intelligent Energy has established an agreement with U.S.-based Parry Labs for the distribution of Intelligent Energy's lightweight Fuel Cell Power Modules (FCPMs) for UAVs (unmanned aerial vehicles). Parry Labs is a leading technology provider to the U.S. Department of Defence and commercial aerospace companies, designing and deploying a range of solutions including advanced power systems, unmanned systems, edge computing, advanced antennas, and more.
Parry Labs has in-depth knowledge of the design and operation of Intelligent Energy's FCPMs and will be able to undertake complete engineering works for customers, including retrofitting of existing systems or new design applications. Parry Labs will also provide in-field support and on-going operation and maintenance services for Intelligent Energy's products.
According to Intelligent Energy, their Fuel Cell Power Modules are the lightest and most power dense available on the market, providing up to three times the flight duration compared to batteries. Their lightweight design allows them to power larger UAVs with heavier payloads, providing benefits for a range of long-range and heavy-lift drone applications in both commercial and military markets.
Lee Juby, Chief Sales Officer at Intelligent Energy, commented: "This is the fourth partnership announcement we have issued in the last few weeks, and I am delighted to welcome Parry Labs to our new, but rapidly growing, network of distributors. We understand the importance of providing our customers with knowledgeable contacts in their region who can provide the necessary level of support required, as demonstrated by our other recent partnership announcements."
"Our fuel cell products are the obvious choice for customers looking to fly for longer and carry more. The compact size and lightweight mass make them ideal for endurance flights."
As an example of an achievable flight time improvement with an Intelligent Energy FCPM, Juby added: "A retrospectively fitted 650W FCPM mounted onto a typical fixed wing sUAS drone could extend flight time to over 15 hours from less than five hours operation with batteries."
John Parkes, Chief Executive Officer of Parry Labs, stated: "Parry Labs is excited to partner with Intelligent Energy in bringing disruptive hydrogen power solutions to the US Aerospace and Defence markets. We believe hydrogen fuel cells will provide our customers with superior solutions. This technology will revolutionize a wide range of applications, including unmanned aircraft, ground systems, edge computing, communications systems, and maritime systems."