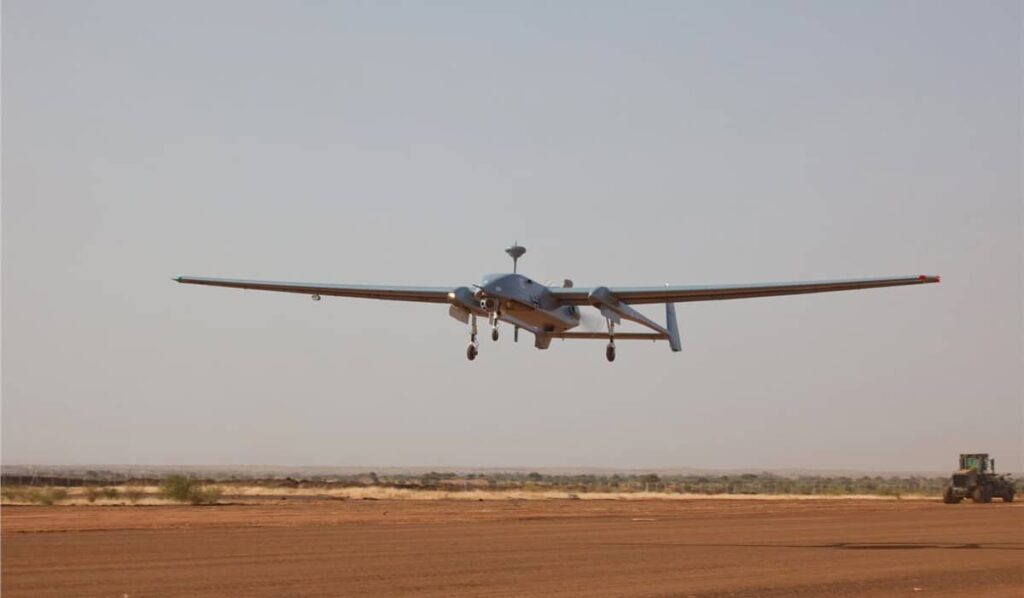 The German Armed Forces' Federal Office of Bundeswehr Equipment, Information Technology and In-Service Support (BAAINBw) has entered into a renewed service contract agreement with Airbus Defence and Space for the continued operation of Heron 1 unmanned aerial systems (UAS) in Afghanistan and Mali. Manufactured by IAI (Israel Aerospace Industries), Heron 1 is an unarmed medium altitude long endurance (MALE) UAS which can stay airborne for up to 24 hours.
The German Air Force has recently passed the milestone of 10 years of operation with the Heron 1 in Afghanistan, logging more than 46,000 flight hours in over 4,100 operational flights. In Mali, the system has undertaken more than 11,500 flight hours in over 1200 operational flights.
Heron 1 operations are managed in both theatres using a joint operator model between the Bundeswehr and Airbus Defence and Space in Bremen. This operator model has demonstrated excellent performance capabilities during operations, with a proven high system readiness of 99%. The deployments of the Heron system in Afghanistan and Mali also help develop expertise within the Bundeswehr with a view to future MALE RPAS systems.
The Heron 1 fixed-wing UAS has a wingspan of 16.6 meters, and undertakes missions such as detecting traps from the air, providing situational awareness for convoys and patrols, assisting forces in combat situations, forward reconnaissance, long-term monitoring and surveillance, and force protection. It is also used to support humanitarian missions.
These Heron 1 systems will eventually be replaced by the more powerful IAI Heron TP, following an operator agreement between Airbus Defence and Space and BAAINBw. The replacement will have a two-year set-up phase, followed by an operational phase lasting a further seven years, thereby bridging the gap until the completion of a sovereign European MALE UAS.