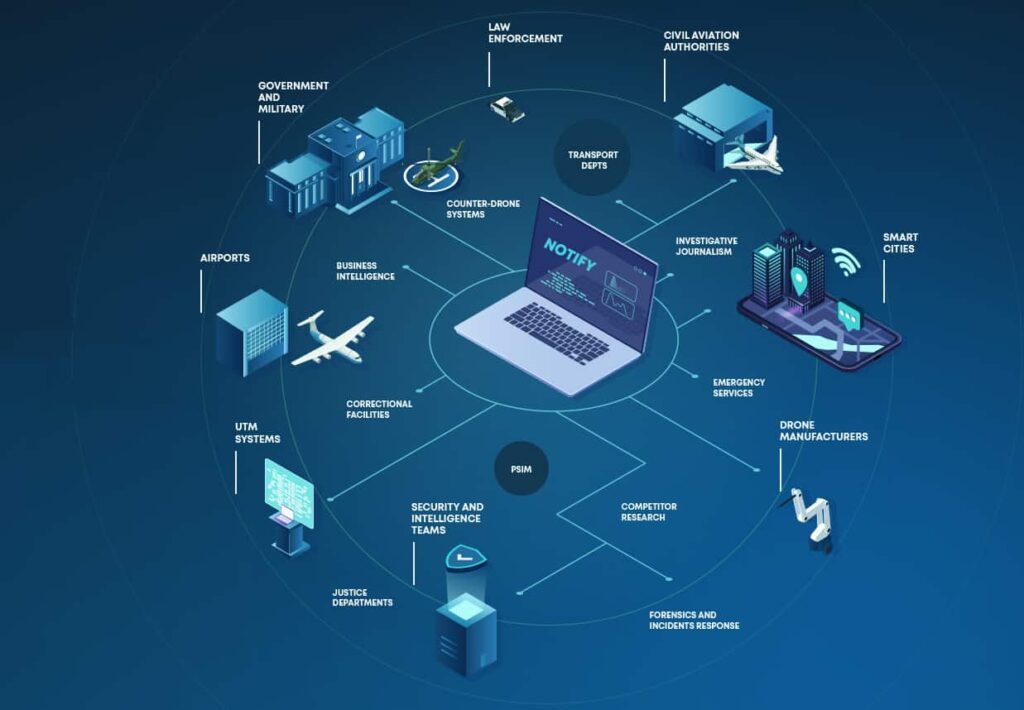 DroneSec has released its DroneSec Notify threat intelligence software-as-a-service (SaaS) global platform, designed for unmanned aviation, counter-drone and UAS Traffic Management (UTM) applications. The system combines human-gathered threat intelligence with machine learning and big data capabilities to deliver customised drone threat alerts and in-depth analysis reports.
Featuring a searchable artefact database backed by a well-rounded knowledge base of whitepapers and industry reports, DroneSec Notify is updated daily from over 100 sources, carefully curated and analysed by a team of drone security experts with backgrounds in cyber security, intelligence, and defence. Rapid access to drone threat incidents, as well as regulatory changes, technology advances, and industry news for emerging technology industries is highly useful for organisations looking to protect against such drone incidents or to deploy their own drone, counter-drone, or UTM system.
DroneSec Notify combines Open-Source Intelligence (OSINT) techniques with a proprietary tracking engine to monitor locations for drone activity, and can operate even without a physical counter-drone system. This makes it ideal for sites where drone-defeating systems may not be approved, such as prisons, airports and stadiums. The software is aimed at security operation teams, digital forensic first responders and law enforcement who wish to analyse trends, patterns and re-occurring threat actors behind unauthorised drone use.
David Kovar, founder and CEO of drone data forensics and visualisations provider URSA Inc., commented: "URSA's success depends on our ability to maintain situational awareness of a very complex and often obscure ecosystem – malicious unmanned systems and the tools used to detect and counter them. DroneSec's Notify service helps us find incidents that other mechanisms miss and to do so in a more interactive fashion, backed by excellent support."
Mike Monnik, DroneSec founder and CTO, stated: "We are really excited to take something that initially designed to uplift our own capabilities can now be put it in the hands of our customers – allowing them to manage their own drone security, countermeasure and response programs. This would not have been possible without a team as dedicated to the field of UAS and embedded in cyber security as DroneSec is."