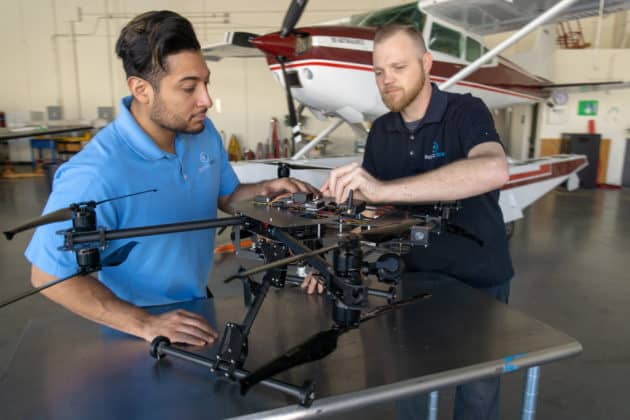 Robotic Skies has entered into a partnership with unmanned aviation engineering firm Autonodyne in order to develop field maintenance and other support services for Autonodyne's mission-critical unmanned aerial systems (UAS) and solutions.
Robotic Skies is a global maintenance, repair, and overhaul network for commercial UAS. Through partnerships with OEMs and existing traditional manned aviation repair stations, the company provides enterprise UAS fleet operators with local turnkey field service support. Robotic Skies employs methodologies developed in the manned aviation sector to make UAS flight operations safe, productive, and compliant with regulatory maintenance requirements.
Autonodyne provides a certification platform for on-board aviation mission computers, software, and ground control systems. With broad experience certifying more than 75 manned systems with unrestricted flight approval in national and international airspace, the company is now applying this experience to enabling UAS to co-exist with manned aviation in global airspace infrastructure.
Autonodyne works with operators of both small (under 55 pounds) and large (over 55 pounds) commercial unmanned and advanced aerial mobility aircraft, and has particular expertise in next-generation aviation software that enables smart automation and autonomous vehicle control.
Steve Jacobson, CEO of Autonodyne, commented: "We are focused on building architectures to support the unrestricted flight of unmanned aircraft in the national airspace. Robotic Skies is an ideal partner in this effort because, in addition to giving us the ability to scale up our customer support program quickly, they understand the nuances of operating in regulated airspace."
Brad Hayden, Robotic Skies Founder and CEO, stated: "Our companies share a common background in manned aviation," said . "The partnership with Autonodyne is a unique opportunity to combine the experience of our teams and bring the aviation safety mindset and best-practices to advancing autonomous unmanned aviation technology."