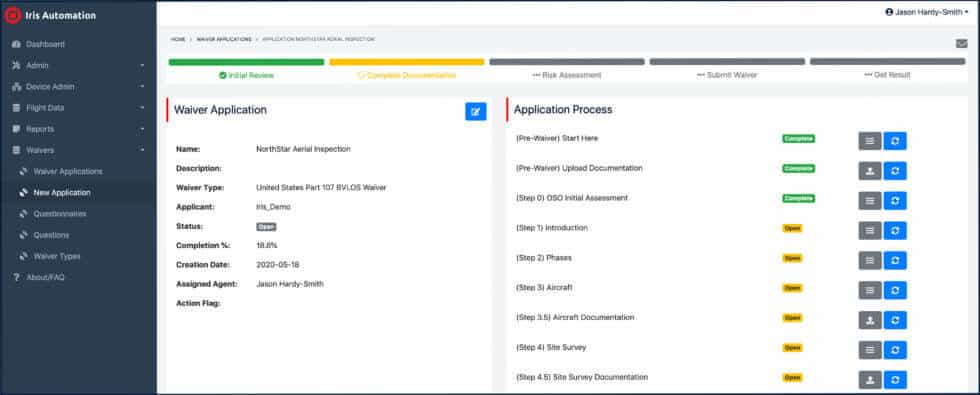 Iris Automation has launched a new Waiver Resource Center (WRC) for UAS (unmanned aerial system) pilots that provides tools and information for managing the complex waiver submission process for all BVLOS (beyond visual line of sight) drone operations.
The new resource centre combines software-as-a-service and expert aviation policy consulting, simplifying and accelerating the entire waiver process. The user-friendly tool provides critical regulatory expertise, reduces the time to submission and optimizes approval outcomes.
Iris Automation's expert aviation policy specialists have amassed thousands of hours between them assessing operational risk and establishing compliant BVLOS flight operations. The new WRC provides access to the company's comprehensive library of waiver templates, and users can purchase WRC accounts at varying levels depending on their unique BVLOS requirements.
The WRC is sold as a subscription and is available to all drone operators in the US pursuing FAA BVLOS waivers, including part 107.31, part 107.33, section 44807 and COA applications, and also supports Transport Canada BVLOS Special Flight Operations Certificate (SFOCs), and International CAA BVLOS waivers.
Iris Automation is currently offering free 15-minute consultations with an in-house aviation policy expert, to help potential users of the platform assess their proposed BVLOS operation, find out what application requirements they will have to meet, and gauge the project's potential for achieving a waiver.
Gabrielle Wain, Vice President of Global Policy and Government Affairs at Iris Automation, commented: "The new Waiver Resource Center is both the crystallization of our Policy team's expertise and our years of interactions with multiple aviation authorities, to simplify what is otherwise a complex and often confusing process. As more companies unlock the potential of drones and look to set their commercial operations apart there is a huge need for on-demand policy experts who can write complex waivers applications for safe BVLOS flight operations."