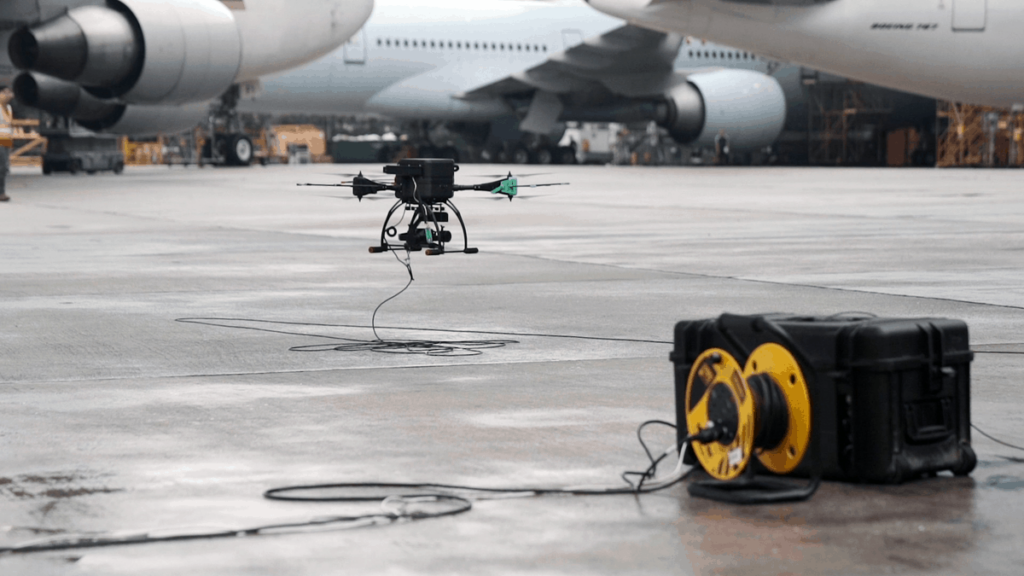 ST Engineering has received authorisation from the Civil Aviation Authority of Singapore (CAAS) to use its in-house developed DroScan drone inspection solution to carry out General Visual Inspection (GVI) during aircraft maintenance at its maintenance, repair and overhaul (MRO) facilities. This marks the first time that CAAS has ever granted authorisation for UAV (unmanned aerial vehicle)-based GVI to be performed on Singapore-registered aircraft.
DroScan is an end-to-end external inspection solution for aircraft such as the Airbus A320 family. It provides greater efficiency and enhanced safety for aircraft maintenance, using automation and smart analytics. The solution has already been trialled with a number of airlines, including Air New Zealand.
The use of drones to physically carry out visual inspections eliminates the need to set up bulky ground equipment such as boom-lifts and work stands used for inspectors to climb up and down during manual inspections. Inspectors can conduct indirect GVI using live video feed and post-flight images captured by the drones. Captured images can be fed through algorithms that detect and classify defects to assist the inspectors in the review process.
DroScan offers a variety of built-in safety features that could make future operations within Singapore's civil aerodromes possible. These include precise positioning for navigation in GPS-denied environments, a powered tethered drone system for extended flight duration, multiple sensors for obstacle detection, and geo-fencing to prevent the drone from leaving its specified flight zone.
Lim Serh Ghee, President of Aerospace at ST Engineering, commented: "DroScan combines ST Engineering's expertise in MRO, unmanned solutions and engineering skills to enhance the way we carry out aircraft inspection and maintenance in a safe and efficient manner. This is one of the many initiatives that we will roll out progressively to digitally transform our hangars and facilities into a smarter environment, which will allow our customers to better enjoy value-added services such as up-to-speed or even real time update of their aircraft maintenance progress."
Kevin Shum, Director-General of CAAS, stated: "CAAS is excited by ST Engineering's efforts to use unmanned aerial systems to perform visual inspections on Singapore-registered aircraft. We commend ST Engineering on this initiative to leverage digital technology to enhance productivity and effectiveness in its operations. Such innovations are in line with our vision to digitally transform the aviation industry. Especially, in this current COVID-19 environment, we hope to see an impetus for more of such novel solutions from our Singapore aviation companies."