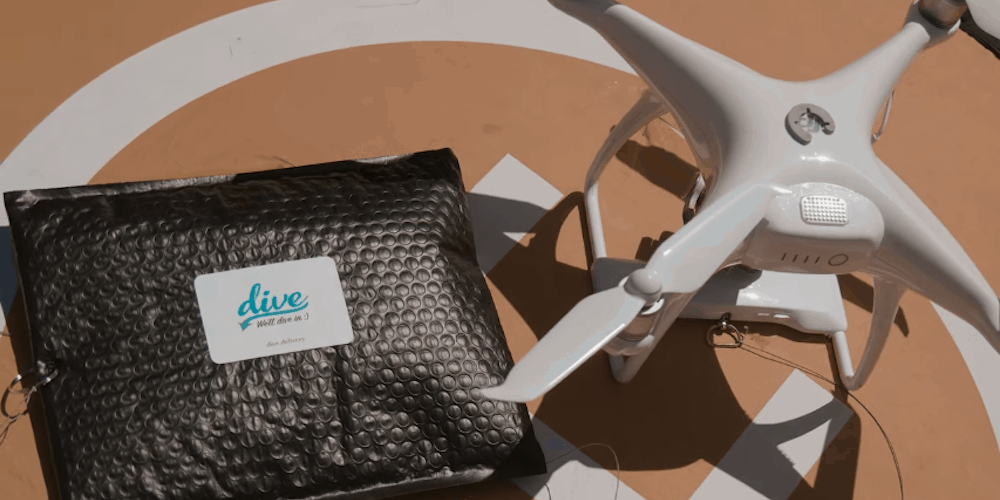 Dive Delivery has secured permission from the FAA to perform drone deliveries to residential addresses in San Mateo and Contra Costa counties in California. The drone flights, which will be used to deliver face masks and other essential lightweight items, will be conducted within visual line of sight (VLOS) under existing Part 107 rules and regulations.
Dive Delivery will use off-the-shelf unmanned aerial vehicles (UAVs) equipped with drop mechanisms and operated by a Part 107 certified remote pilot. Once a resident has signed up to the service, a test flight will be performed without any cargo. Once this has been completed successfully, the pilot will affix a lightweight package to the drone and conduct the actual delivery drop flight. Customers will be notified before and immediately after the operation to ensure they do not walk under the drone at any time.
The drone mission planning, airspace authorization (via automated LAANC requests) and flight execution will be handled by an iOS app from airspace and flight management technology company Avision. Drones will take off from a predefined location, fly to the customer location via automated waypoints, lower into the marked location, automatically release the package and return to the launch location. Dive Delivery also plans in the future to utilize Avision's UTM (unmanned traffic management) platform for additional safety and operational visibility, once it has been approved by regulators for BVLOS (beyond visual line of sight) operations.
James Broniec, VP of Business Development for Avision, commented: "Dive Delivery is doing groundbreaking work executing on last mile drone deliveries in the Bay Area. Working alongside a company like Dive to meet the needs of local communities in a time of crisis is really rewarding for us."